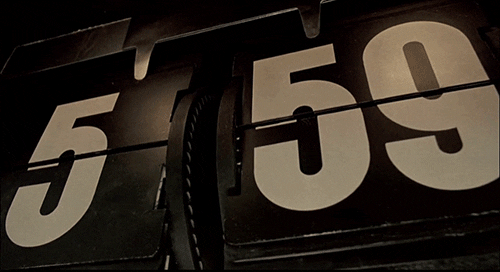 I told him kindergarten.
The visit from this detective made me wonder what I would call myself if I were to become a detective and I realized I would probably go with my middle initial of 'E'. I would make everyone call me, "Mr. E."
I recently tried my hand at writing a detective story:
11:45 – arrived at crime scene
11:45 – Examined body. Signs of struggle
11:45 – Found murder weapon in drain

11:45 – Realized watch was broken
I was reading a story about a detective that figured out what the murder weapon was within minutes.
It was a brief case.
So we've been trying to figure out how one of the Pharmacy Benefit Managers (PBMs) took back over $26,000 from us recently in addition to the claw backs they already hit us with on a weekly basis. As we continue to unravel the case we've been working to offset this through a range of activities and this weekend Emily Jones has organized a benefit concert. Please join us at Faith Community Church on Saturday, November 18th at 7PM for a Piano Concert. We are requesting a free will offering for the concert. Beverly Montrose will also be there selling her oil paintings to benefit Lost and Found as well.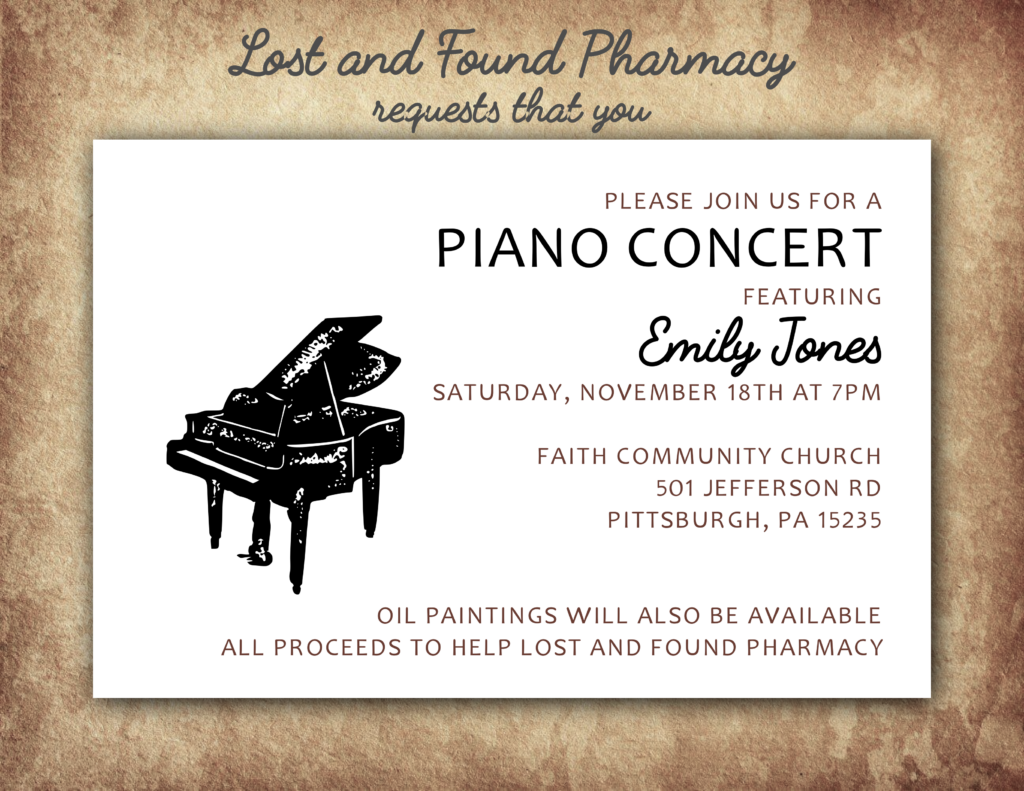 I should probably transition and talk about what else we have coming up in the not too distant future:
Friday, November 11th, 6:30ish – 9ish, Board Game Night ~ This has long been a tradition to come in on a Friday and have fun playing games.
Saturday, November 11th, 1PM – 3PM, Tech Help ~ We are a handful of tech heads that like technology and would like to help you with your stuff. We can help with cell phone, tablet, and computer problems/questions. We can talk with you about the latest tech like streaming TV, home security, cyber security, etc. This is all done for free, you just need to come in and ask for help.
Saturday, November 18th, 7PM, Piano Concert ~ Join us for a fund raiser at Faith Community Church where concert pianist Emily Jones will be performing and artist Beverly Montrose will be selling oi paintings.
Tuesday, November 21st, 7PM – 8:30PM, Bible Study ~ We are studying the Book of Exodus. This group is open to the public, so feel free to join us.
Thursday, November 23rd, Thanksgiving Day ~ We are closed in observation of Thanksgiving Day. We will be open on Friday.
Saturday, November 25th, All Day, Small Business Saturday ~ We will have events ans specials throughout the day to celebrate our official kickoff of the Christmas Season!
Friday, December 1st, 5ish – 9ish, Long Board Game Night ~ While people can still come at the regular time, there has been a request for an opportunity for some of our game enthusiasts to break out something a bit longer. Come and enjoy some of your longer board game favorites.
As we just started selling board games earlier this year, we wanted to highlight the game Splendor.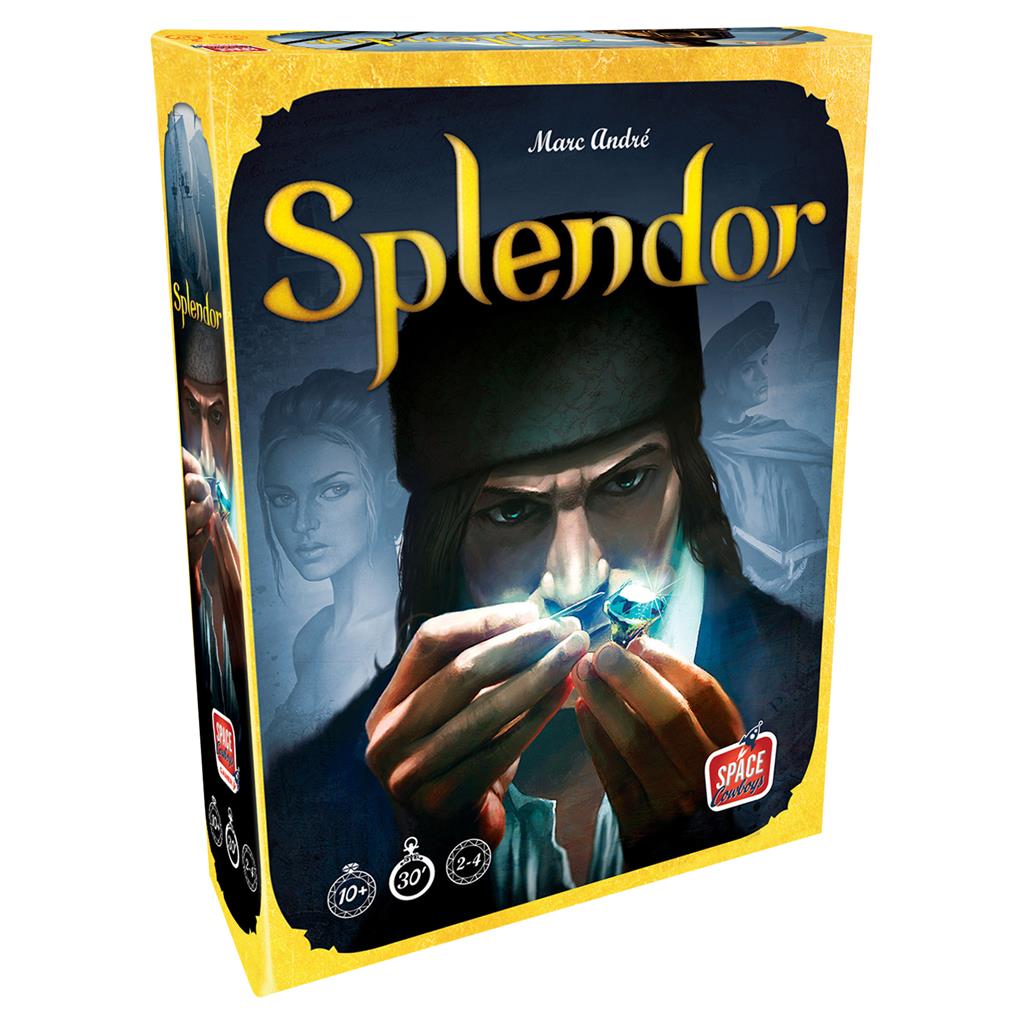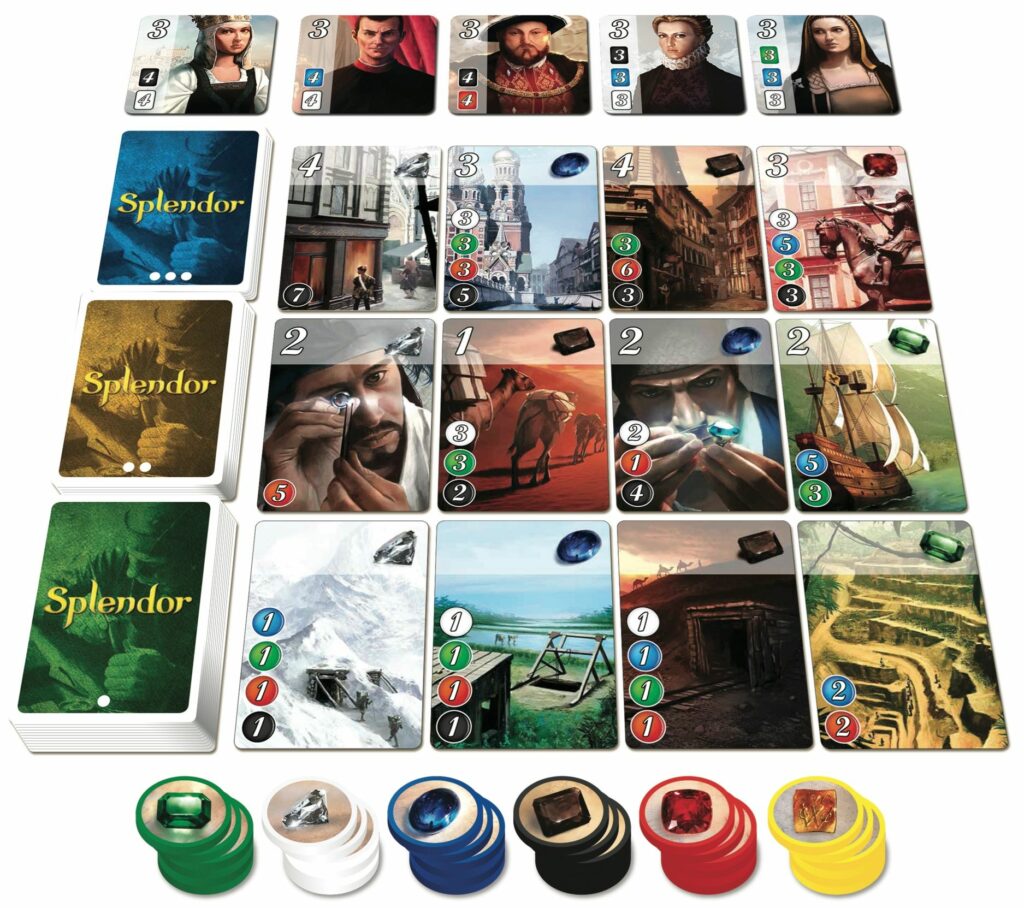 Splendor is a game of gem collecting and card development. Players are merchants of the Renaissance trying to buy gem mines, means of transportation, shops—all in order to acquire the most prestige points. If you're wealthy enough, you might even receive a visit from a noble at some point, which of course will further increase your prestige.
Now for the part everyone always asks about, the actual food! Our new Sandwich is a delicious tuna melt. Our soup is our loaded hash brown potato soup. Our specialty ice creams are Pumpkin and Chocolate Moose Tracks. A new treat is grilled cake with strawberry topping or a peanut butter topping.