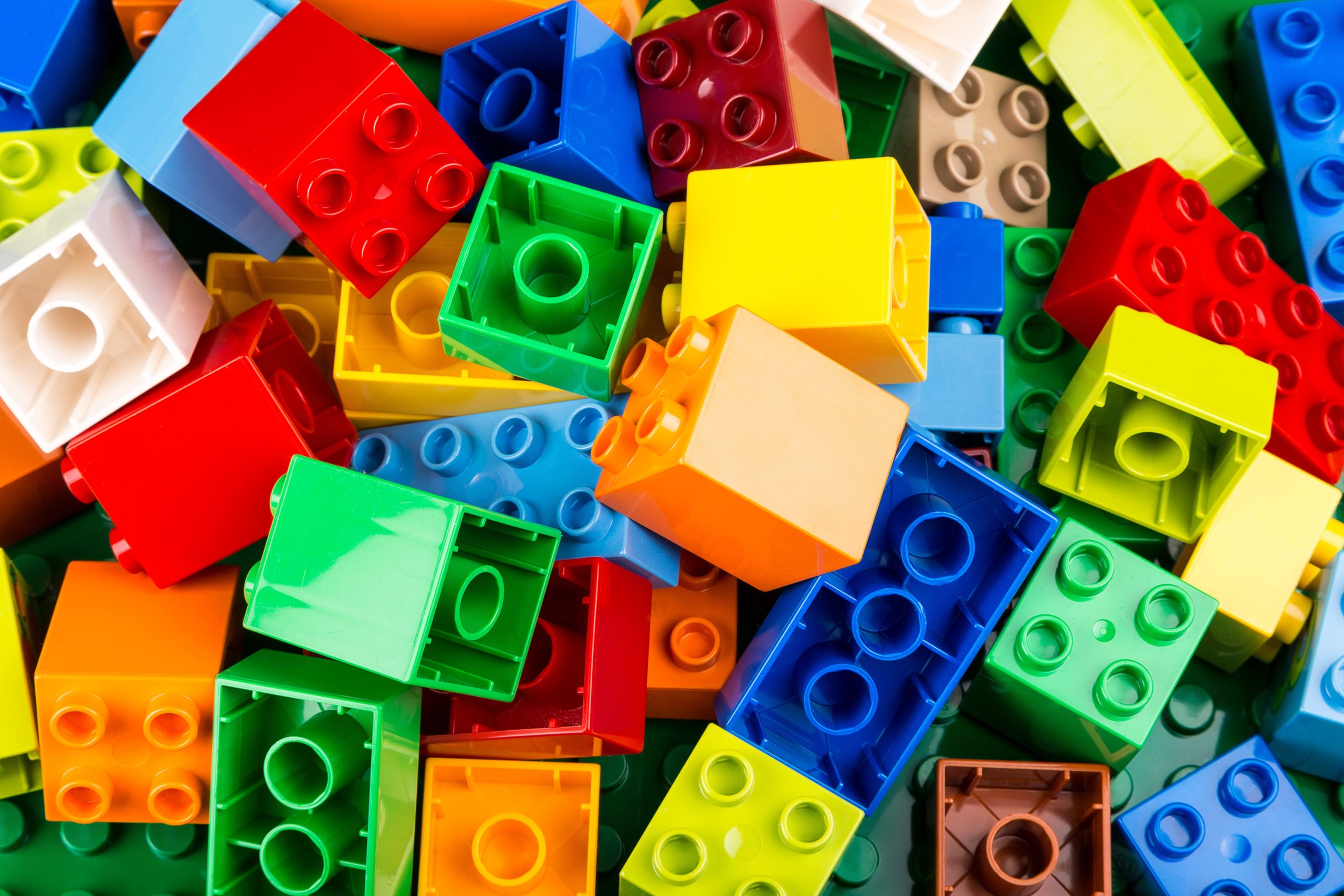 I didn't know what to make of it.
This weekend is our LEGO Competition, followed by our Labor Day cookout on Monday and our big raffle basket drawing.
Some of you may not have realized this, but I worked in hospitals for years before teaching and opening Lost and Found. I worked at the four letters for nine years and I spent eight years at a small community hospital. Naturally all that hospital work has allowed me to give deep consideration about what the most common procedure would be at a LEGO hospital. Plastic Surgery!
Of course considering what I do now, running a soda fountain pharmacy, reminds me of a knock knock joke.
Knock, knock.
Who's there?
Ice cream.
Ice cream who?
Ice cream (I scream) when I step on a LEGO!
We want to encourage kids in first through sixth grade to come in and join us for our LEGO Competition this Saturday, September 3rd, starting at 11. There is no entry fee and there will be prizes!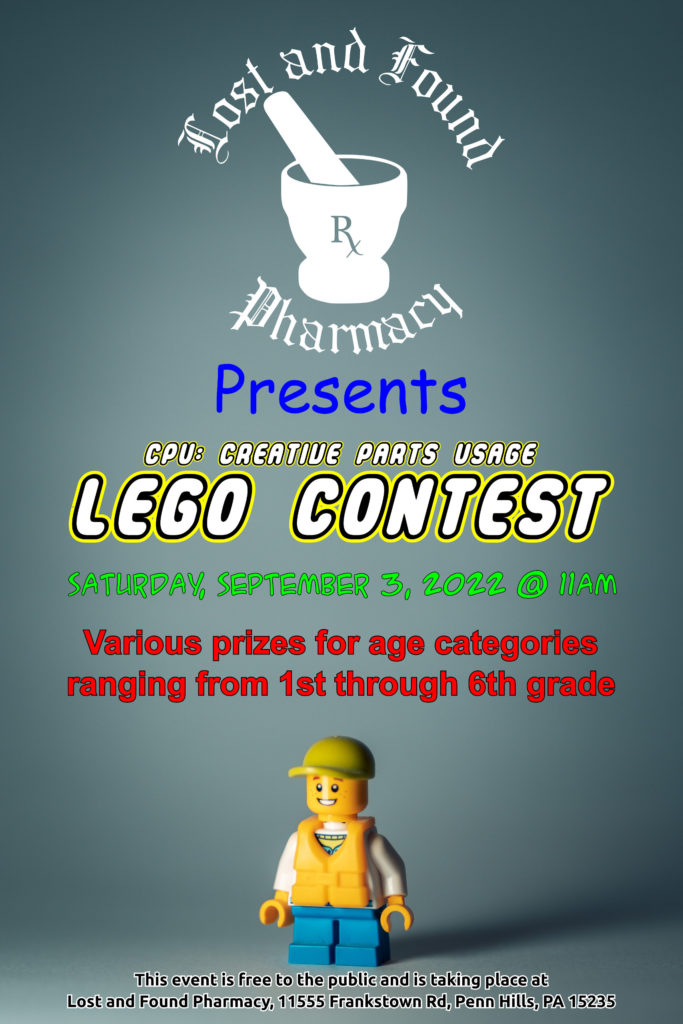 We also Want to remind everyone one last time to come in and check out our raffle baskets. The raffles will be drawn on Labor Day @ 4PM. All proceeds go to our patient care fund that has provided direct help to several hundred people in our community, not to mention the impact this has had on their families.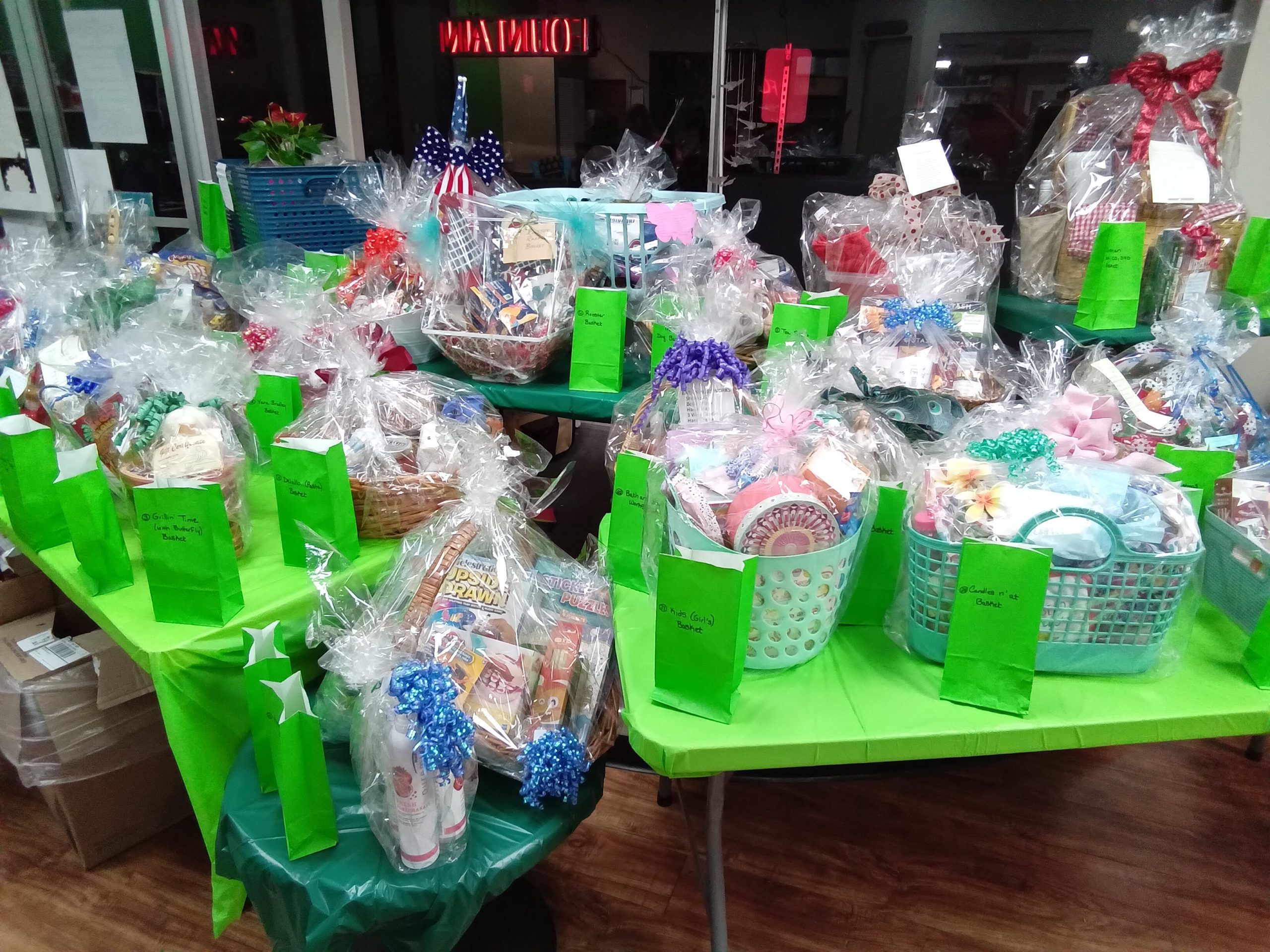 The following is a list of the many amazing baskets that have been donated by individuals and local businesses.
Classy Kitchen Basket – Anthurium plant, covered cake tray, 2 cake mixes, 2 icings, one set of mixing bowls, pitcher, 2 crystal light mixes, color changing tumblers, 4 straws, waffle bowls, caramel sauce, hot fudge sauce, pioneer woman ice cream scoop, spoon rest, spatula and acacia wood cutting board set.
American Basket – Patriotic tumblers, patriotic candles, plastic table cloth, paper plates, outdoor metal gnome and yard signs, outdoor solar lights, welcome door hanger, bird house, decorative metal bucket, flags, patriotic towel, patriotic socks…and more.
Grillin' Time Basket – Collapsible grill, charcoal, fire starters, lighters, tongs, turner and brush, glove and pot holder, thermometer, grill mats, paper plates, table cover…and more.
I Love Snowmen Basket – Snowman stocking, snowman socks, snowman tissue box, snowman dish towels, pot holder and glove, snowman wind chimes, 2 bottle toppers, 3 snowman ornaments, snowman wood figurine, candle with lights and a wood door hanger, small snowman plate, large cookie or cheese plate, salt and pepper shaker, small wood figurine.
Prayer and Comfort Basket – Prayer cards, merlot, Godiva chocolates, tomato sauce and olives, pasta and pasta spoon, kitchen towel and oven mitt.
Rooster Basket – Spoon rest, kitchen towel and place mats, breakfast blend k-cups, napkins, metal tray, large metal decoration, and more…
Lady and the Tramp Dog Basket – Lady and Tramp stuffed animals, squeaky bone toy, rope and ball toy, waste bags, bandana, leash and safety light, dog bones, training treats, and more…
Tea Basket – Five assorted "STASH" black teas, aromatherapy candles, shortbread and milano cookies, honey, coffee/tea mug, ceramic coaster.
Christian Boook/CD/DVD Basket – Books: Bible promises, One Word from God Changes your Destiny, On the Way to the Future, Hearing from Heaven, He did it for you; CD's: The Rights of the Redeemed, The Heavens are Shaking DVD: Mystery of the Shemitah Unlocked
Wine and Dine Picnic Basket – Strawberry wine, wine glasses, cutlery, condiment bottles, skewers, toothpicks, grill glove, pot holder, BBQ grill set, table cloth, napkins, paper towels, fly swatter, bug spray
Swan Bath Basket – Himalayan salt night light, light up blue tooth speaker, pink bath salts, peach cobbler candle, hot chocolate mix, chocolate bar, swan beanie baby, bath sponge, back scratcher
Mexican Basket (Basket is Fish shaped) – Louisiana hot sauce, taco mix, crispy jalapenos, tortilla strips, black bean chips, tortilla chips, avocado sauce, flour tortillas, and more…
Vera Bradley Basket – Matching bag, pouch, and wallet set
Delallo Pasta Basket – Pasta: capellini, ziti, casarecce, pizzelle, biscotti, five pasta sauces
Boy's and Girl's Toy Basket (Blue basket) – Hot wheels cars, crayons, sparkle girl doll, jumbo jax, yoyo, flag, wiffle ball, flow bracelets, wave bubbles, and more…
Puzzles – Balloons (1,000pc), Memory Lane (300pc), Season's greetings (1,000pc), Audubon (1,000pc), Kittens (1000pc), + three more…
Seasonings Basket – Five bottles assorted hot sauces, habanero honey mustard, mang chipotle seasoning, creole seasoning, honey jalapeno beef jerky, buffalo wing pretzel pieces
Organic Fair Trade Basket – Tea, coffee, granola, chocolate, preserves, coconut chips, pasta and sauce, mints, lip balm, Eco friendly items: shopping bag, cotton bag, beeswax food wraps
Lottery Ticket Tree
Pamper Yourself Basket – $60 gift certificate to Susan's Healthy Hand massage, bath fizzers, warm vanilla shower gel, bath sponge, vanilla bath soap
Kid's Basket (Curved wicker) – Bob Ross puzzle, Avenger's puzzle, Play-doh, Lego blocks, pencils, sticker/puzzle books, craft pack wooden dog and horse for painting, Telestrations team sketch game, and more…
Bath and Body Works Basket – Shower gel, body lotion, hand soap, three wick candle, hand creme, hand sanitizers
Angel Basket – Four angel figurines one is light up and glittery, angel food cake mix, angel hair pasta
Pamper with Prayers Basket – Prayer cards, rosewater bath wash, rose scented soap, rose candle, fancy hand soap and guest towels, peony scented facial cleansing cloths, two scrubbies
Christmas Basket – All Christmas themed: dish towel, socks, notepad, cookie cutters, plate, spoon and spoon rest, candle, ornament, lights, glade pine scented spray
Steeler's Basket – Playing cards, Steeler's Kleenex holder, Penguin's mug, Gold Pittsburgh ornament, Steeler's toothbrush, Steeler's snowflake, football rocket, Steeler's helmet keychain, blessing cards, football necklace, Pittsburghese coaster, Pittsburgh bear, Betsy Ann Pittsburgh chocolate bar, golf luggage tag, Pittsburgh shot glass, sports stickers, Pirate shoes, Pittsburghese pens
Kid's (girls) Basket – Trinket box, jump rope, unicorn necklace, fuzzy hair scrunchy, side walk chalk, colorforms story mega set, pencil pouch, notebook, folders, water bottle, hand sanitizer, and more…
Candles n' at Basket – Paperback book (Claris Leachman), puzzle book, 3 pack tissues, water bottle, 3 wick candle, gift box candle, dish towel, pot holders
Ultimate Bath Basket – Bottle of sweet wine, wine glass, Aromatherapy candles, exfoliating cloth, hot/cold pads, hair wrap, vanilla sugar body wash, Hawaiian ginger body wash, peach body spray, Harry and David cookies, Milano cookies, cheese crisps
Jack Pot Lottery Basket
Keely's Hair Products – Pomegranate hair spray, pomegranate shampoo, pomegranate conditioner, Gift certificate
Personal Hygiene Basket – Toothpaste, razors, shave cream, N95 mask, large hand sanitizer, mouth wash, facial tissues, large candle
Tickets for the baskets are as follows:
1 ticket for $1
6 tickets for $5
15 tickets for $10
We should probably mention what else we have coming up in the not too distant future.
Friday, September 2nd, 6:30ish – 9PM, Board Game Night ~ This has long been a tradition to come in on a Friday and have fun playing games.
Saturday, September 3rd, 11AM – 12:30PM, LEGO Competition:Creative Parts Usage ~ Who doesn't love the parts of our imagination that are sparked by LEGOs? We will be having the first of a series of LEGO competitions complete with prizes for various age groups.
Saturday, September 3rd, 1PM – 3PM, Old Men That Talk About Computers ~ This group, whose name is in flux, meets every Saturday to help others with their tech problems and/or talk about trending technology. If we don't have too many questions this weekend, we may demonstrate the MyEMMA machines for in home pharmacy automation.
Saturday, September 3rd, 7PM – 8:30PM, Bereans Group ~ This group, which is open to the public, is spending this evening discussing Biblical frameworks. This will include things like dispensational theology, covenant theology, preterism (and partial-preterism), futurist, etc.
Monday, September 5th, 11AM – 4PM, Labor Day Cookout ~ Come and join us for our end of Summer cookout and see whom wins each of the 32 available raffle baskets when they are drawn at 4PM. I haven't bought raffle tickets yet? Come in and get them before it is too late! This is our big Summer fund raiser for our Patient Care Fund.
Tuesday, September 6th, 7PM – 8:30PM, Bible Study ~ We are continuing our study on the Gospel of John. We are currently in chapter 14 and we just saw doubting Thomas and Philip become utterly confused!
Wednesday, September 21st, 5PM – 7PM, LEGO Batman Movie ~ Come and join us for a free movie for the public to enjoy.
Now for the part everyone always asks about, the food! Our current soup is our nearly famous chicken tortilla soup, we are almost done with our Reuben sandwich and our specialty ice creams by the time Labor Day comes around will be White House Cherry and Candy Bar Overload ice cream.
Thanks and God bless
Sean