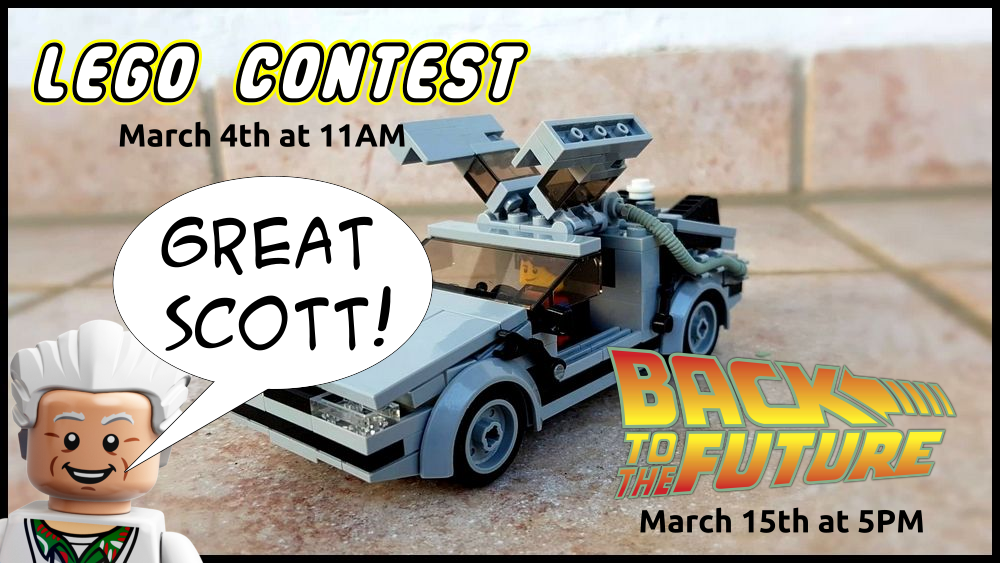 Meet me here last Thursday at 7 PM
This weekend is our next LEGO contest, and this month's movie at LAF is the 1985 classic, Back to the Future
I love the car in that movie, but if I owned a Delorean, I would only drive it from time to time.
Sometimes I like to pretend that I'm driving a Delorean and whenever I reach 88 mph in my car, I always make a Back to the Future time traveling sound effect inside my head…
…and that's usually followed by a police siren sound effect outside my car.
In honor of both our upcoming LEGO event and our next movie I though it would be great to check out a video titled Brick to the Future.
I should mention what else we have coming up in the not too distant future:
Friday, March 3rd, 6:30ish – 9ish, Board Game Night ~ This has long been a tradition to come in on a Friday and have fun playing games.
Saturday, March 4th, 11AM – 12noon, LEGO Contest ~ We will be hosting a LEGOs competition for kids in first through sixth grade. Various prizes for different age categories will be given out and the competition is free to the public. The theme for this contest is making moving joints while using standard LEGO parts.
Saturday, March 4th, 1PM – 3PM, Tech Help (the group formerly known as Old Men That Sit Around and Talk About Computers) ~ This group meets every Saturday to help others with their tech problems and/or talk about trending technology. We have solved a lot of computer problems for various platforms and devices including phones, smart watches, digital cameras, CD players, and we have helped people with numerous software problems ranging from laptop and cell phone apps to even thing like Apple Car Play. If you got a new (or problematic) device, bring it in and we can help you set it up!
Saturday, March 4th, 7PM – 8:30PM, Bereans Group ~ This group, which is open to the public, is discussing Biblical perspectives on social justice in light of Roe v. Wade having been over turned.
Tuesday, March 7th, 7 PM – 8:30 PM, Bible Study ~ We are studying the book of Daniel and we were just discussing a dream about sheep and goats.
Wednesday, March 15th, 5PM – 7PM, Back to the Future ~ Join us for a movie that takes place in 1985 and then travels even further back to 1955…
Now for the part everyone always asks about, the food! Our soup is a white chili, our current sandwich is a pizza panini, and our specialty ice creams are Better Brownie Batter and Peach. Also, while it lasts, our waffle is a rich chocolate waffle.
Thanks and God bless
Sean