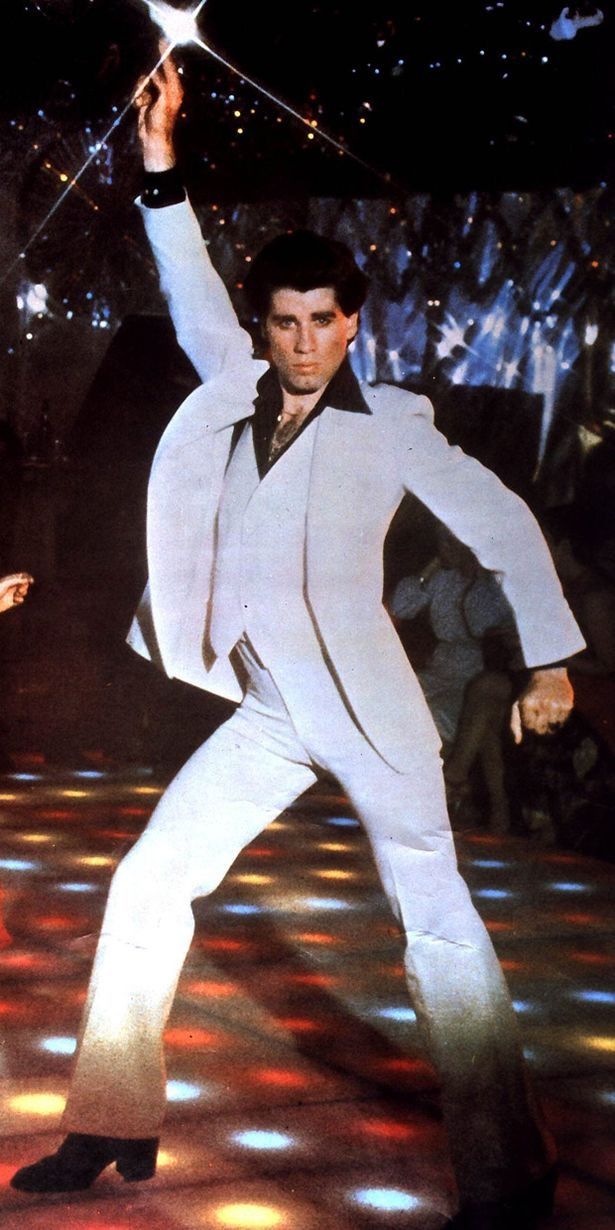 At first I was afraid. I was petrified…
Eventually though I got my groove on and was showing how funky I can really be. Unfortunately a cop came in and arrested because I was really killing it.
You should come in for our seventh anniversary event this Saturday at Lost and Found and see if a repeat can happen as we're going to have live music, karaoke, a K-9 cop, a kids craft, and food out on the grill. Much joy will be had by all.
With all this music going on this weekend it reminds that when I was young, I wanted to play the guitar really badly. After years of hard work, perseverance, and practice, I can play the guitar really badly.
Of course my singing is better than my guitar playing. I am often asked to sing solo. So low that no one can hear me.
I've been told that I'm best as a tenor. That is, ten or eleven miles away.
Since lots of other people will be singing I do want people to try and choose songs that they might be able to sing. I want everyone to avoid the End of the World scenario as demonstrated in the carefully constructed graph I made below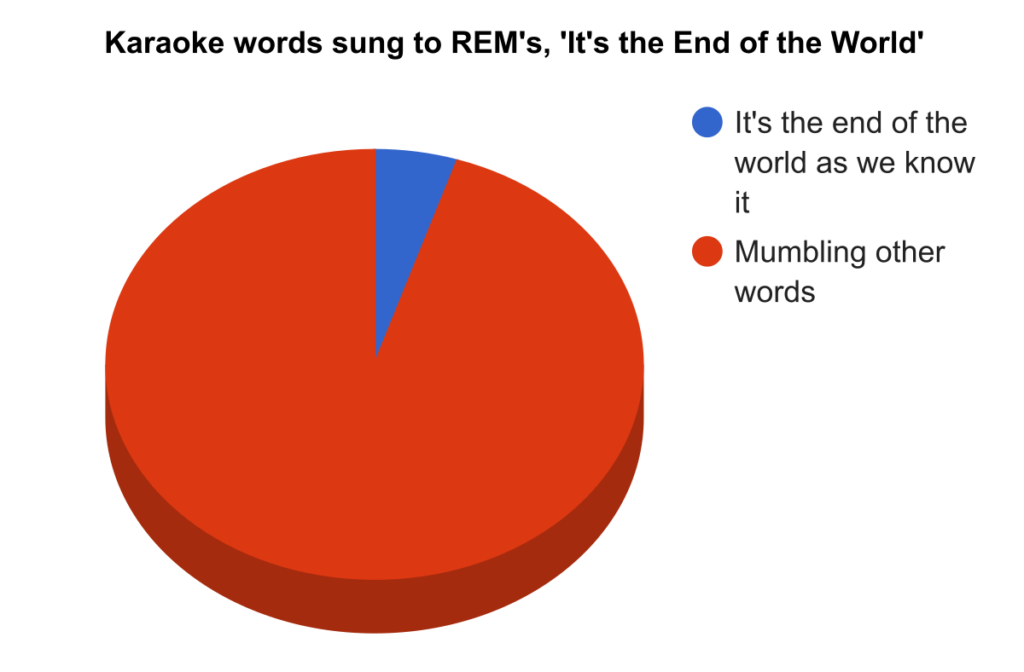 On a marginally related note, there is a photograph of me with REM.
I should probably switch gears and mention some of the other exciting things coming up in the not too distant future:
Friday, June 2nd, 6:30ish – 9ish, Board Game Night ~ This has long been a tradition to come in on a Friday and have fun playing games. We have also just added some board games to our shelves that you should come by and check out.
Saturday, June 3rd, All Day, Seventh Anniversary ~ Seven years ago we opened a crazy non-profit pharmacy to help the community. We are celebrating that we have gotten to help people afford medications and enjoyed being a location for many community events

Grilled Foods ~ 11AM – 5PM ~ Didn't get a chance to enjoy one of our famous hamburgers on Memorial Day, come back and get on ths Saturday.
Kids Craft ~ 11AM – 3PM ~ We have some really cool sun catchers that we want kids to come in and decorate as a free craft.
Karaoke ~ 1PM – 3PM ~ DJ Anna will be ready to cue up the songs you're looking for. If you already know which songs you're wanting too sing, feel free to let us know in advance.
Live Music ~ 4PM – ?? ~ Jay has graced our stage more often than any other musician, and it's because we love to hear him perform.

Saturday, June 3rd, 7PM – 8:30PM, Bereans Group ~ This group, which is open to the public, is discussing the Biblical differences between men and women. As Pepé Le Pew once said, "Vive la différence!"
Tuesday, June 6th, 7PM – 8:30PM, Bible Study ~ We are enjoying a series on I and II Thessalonians. This week, we will be in continuing II Thessalonians.
Wednesday, June 21st, 5PM – 7PM, Top Gun: Maverick ~ In a sequel to a film I watched repeatedly as a child we get a great story about redemption and second chances. This film is rated PG-13.
As we've recently started selling board games at Lost and Found, I decided to highlight one of my favorite board games, Terraforming Mars.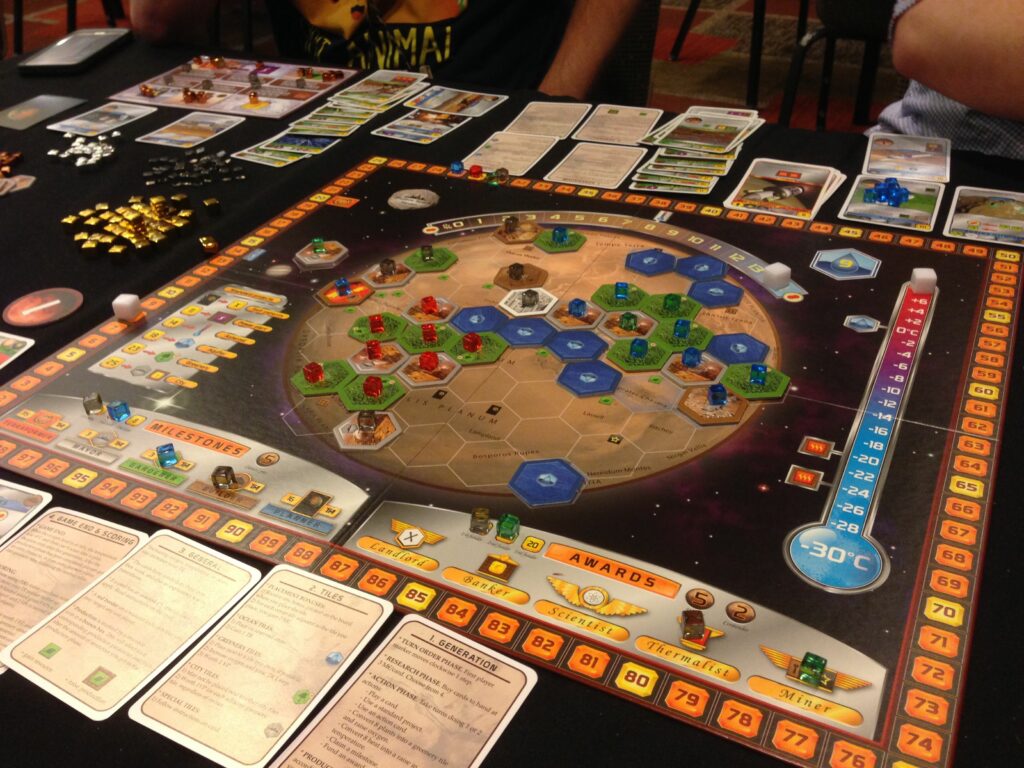 In the 2400s, mankind begins to terraform the planet Mars. Giant corporations, sponsored by the World Government on Earth, initiate huge projects to raise the temperature, the oxygen level, and the ocean coverage until the environment is habitable. In Terraforming Mars, you play one of those corporations and work together in the terraforming process, but compete for getting victory points that are awarded not only for your contribution to the terraforming, but also for advancing human infrastructure throughout the solar system, and doing other commendable things.
Now for the part everyone always asks about, the actual food! Our soup is our hash brown potato soup, our sandwich is a Reuben! Our specialty ice creams are Dark Chocolate Raspberry Truffle and Sugar Cookie ice cream. Our new specialty waffle is a red velvet waffle.
Thanks and God bless,
Sean