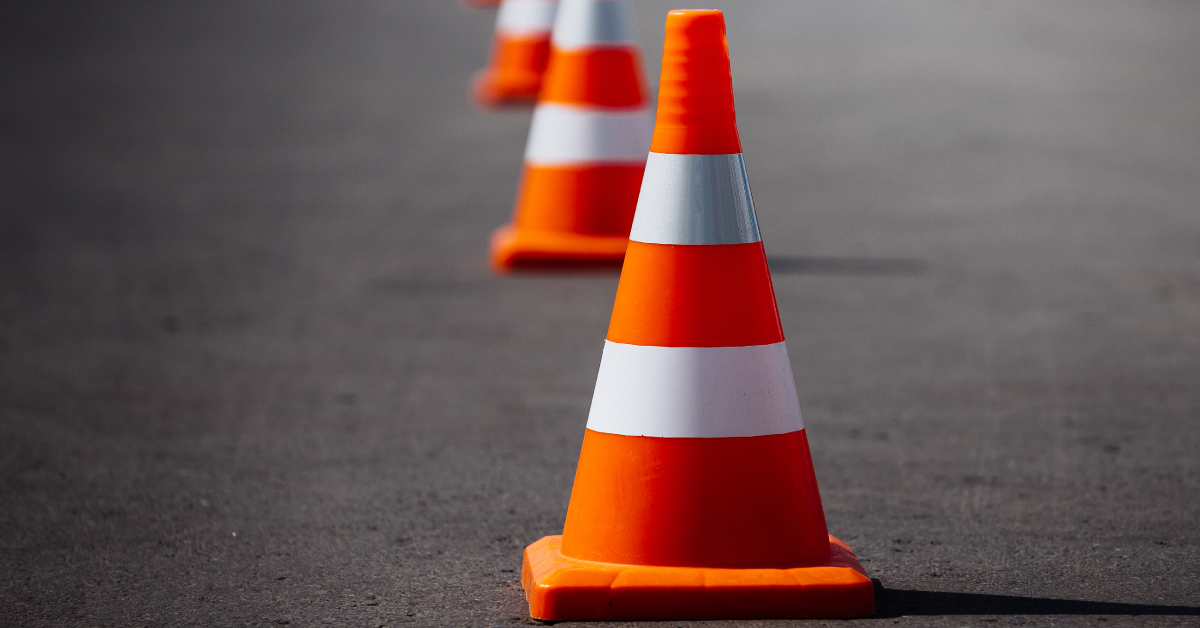 Sorry, but I'm still working on it. Expect delays.
So I grew up in the Midwest where the four seasons were known as Almost Winter, Winter, Still Winter, and Construction. Of course, once I moved to Pennsylvania I learned that they had elevated Construction season to an art form.
When I moved to Western Pennsylvania in high school I learned that the state tree was the construction barrel, which must make the safety cone the state flower. I don't actually know what the state bird is. It's probable the crane.
Speaking of construction zones, I do need to make a tie in for my lovely bride. What does a speeding ticket in a construction zone and my wife have in common?
They're both double fine.
Not everyone knows this, but when I was in college I briefly had a construction job. I had to do a pretty wide range of activities and not all of them were equally entertaining. I always found drilling to be very boring, but attaching two pieces of metal together was quite riveting. I was working on top of a seven story building one day when I started singing the song Dear Boss. It did give my supervisor pause before he asked me to move a load of bricks.
I did stay in college and land a different career. Having had a pretty broad range of jobs I have learned a quick way to tell the difference between someone that has studied chemistry and a construction worker.
Hand them a piece of paper with the word "unionized" and ask them to pronounce it.
We should probably mention some of the activities coming up in the not too distant future:
Friday, June 23rd, 6:30ish – 9ish, Board Game Night, This is an opportunity to come and play some board games and just hang out. Last week we had a bunch of different games going on including Dominion, Terraforming Mars, Tiny Epic Dungeons, and Wingspan
Saturday, June 24th, 1PM – 3PM, Tech Help (the group formerly known as Old Men That Sit Around and Talk About Computers) ~ This group meets every Saturday to help others with their tech problems and/or talk about trending technology. We have solved a lot of computer problems for various platforms and devices including phones, smart watches, digital cameras, 3D printers, and we have helped people with numerous software problems ranging from laptop and cell phone apps to even things like Apple Car Play. If you got a new (or problematic) device, bring it in and we can help you set it up. We are also going to start offering classes on everything from how to make your cellphone easier to use, to 3D printing, to flying drones, cord cutting, etc. Let us know what topics you're interested in and we'll put together information on that.
Tuesday, June 27th, 7PM – 8:30PM, Bible Study ~ We recently finished a series on I and II Thessalonians. If you're thinking you would like to join a new Bible study, this could be a good opportunity to join as we will just started the book of Exodus.
Saturday, July 1st, 11AM – noon, LEGO Contest: Food Fight Edition ~ For July's big LEGO competition, we are encouraging kids to figure out how to make LEGO creations that resemble food. This event is for kids in 1st through 6th grade.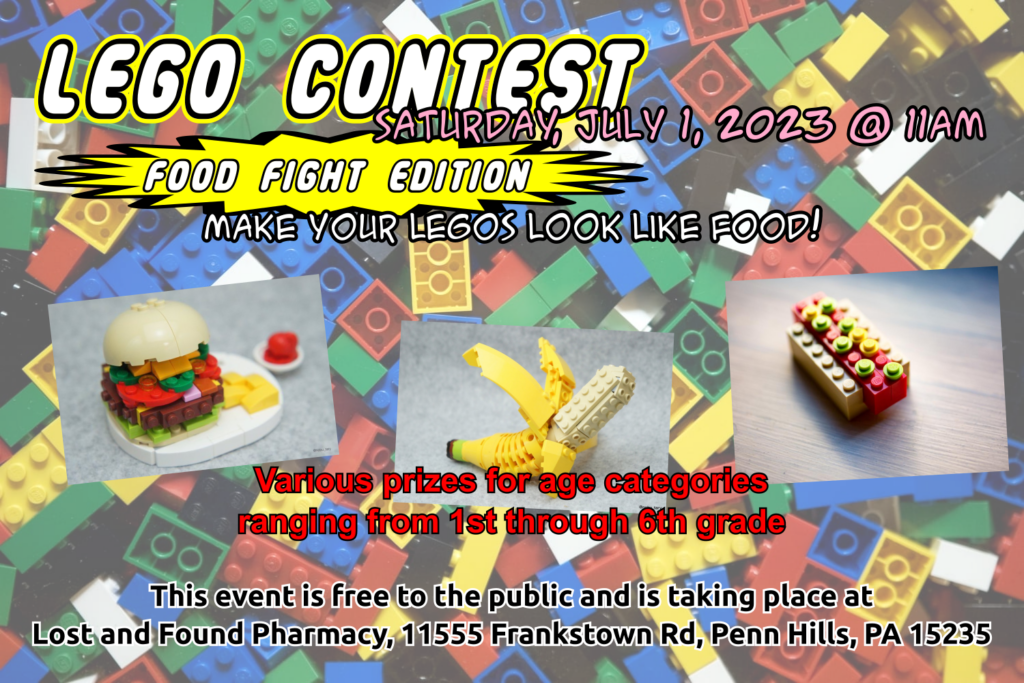 Saturday, August 19th, 9AM – 2PM, Fourth Annual Craft Show ~ This year's craft show will have lots of activities, grilled foods, raffle baskets, and more! This is our big Summer fundraiser, so stop in and check things out. More details will be made available soon. You may register here or at our store.
As we've recently started selling board games at Lost and Found, I decided to highlight a game called Azul.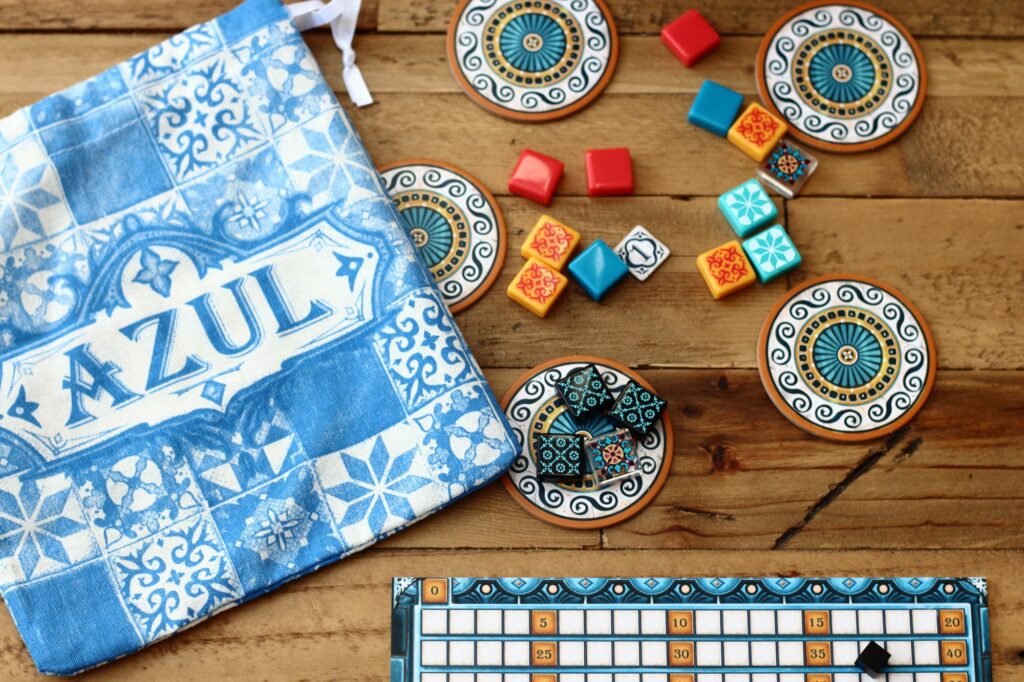 In Azul, you draft various colored tiles to make beautiful patterns intended to decorate the walls of a palace. It is a visually attractive game that might just appeal to your OCD nature.
Now for the part everyone always asks about, the actual food! Our soup is our hash brown potato soup, our sandwich is a Reuben! Our specialty ice creams are Moose Tracks and Strawberry Cheese Cake ice cream. Our current specialty waffle is a red velvet waffle.
Thanks and God bless,
Sean