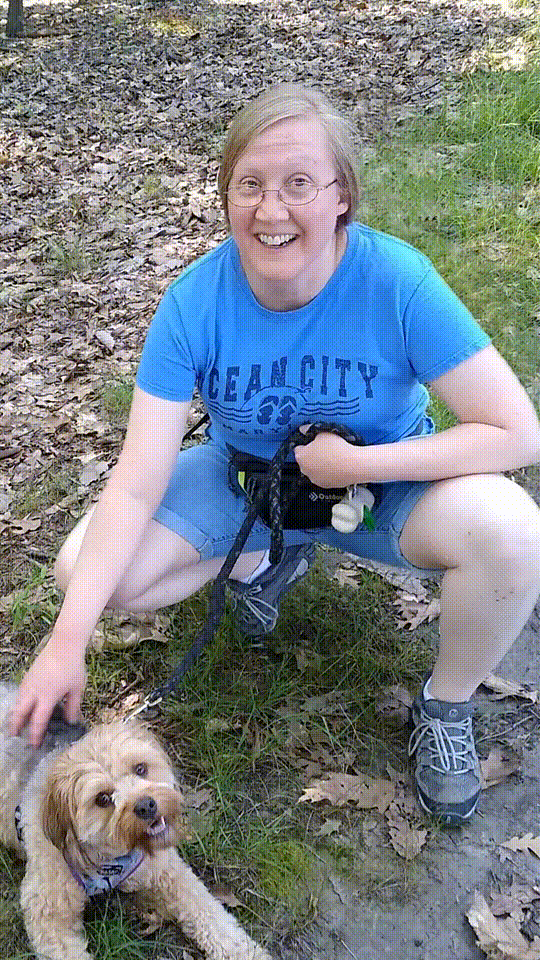 After an email honoring cats two weeks ago, a lot of pressure was placed on me to talk about dogs this week. Having owned a couple of dogs throughout my life, I decided this task shouldn't be too ruff.
Growing up I got a dog that was missing a leg from an animal shelter. I have occasionally wondered, 'where do you find a dog with no legs?'
Then, I had an epiphany. It would be wherever you left him.
Unimaginatively, I called my three legged dog Three. So what would you call a dog with no legs?
It doesn't matter, he won't come to you anyway.
I always assumed that dogs had to be bad dancers because most of them had two left feet. Then, I saw this video:
So my current dog, Xanax, happens to be our CEO. You can see her image below looking very important (and cute) in the middle of our store.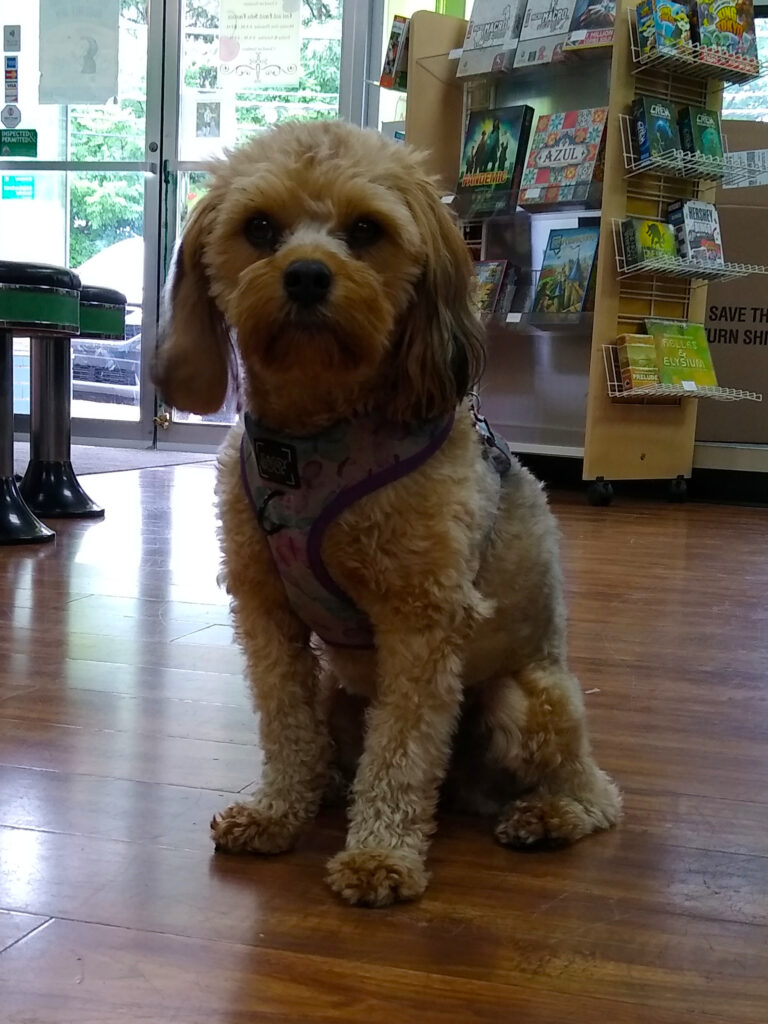 By the way, Saturday August 26th is International Dog Appreciation Day.
Of great importance, we have our annual fundraiser with lots of exciting baskets. Tickets are priced as follow:
1 ticket for $1
7 tickets for $5
16 tickets for $10
40 tickets for $20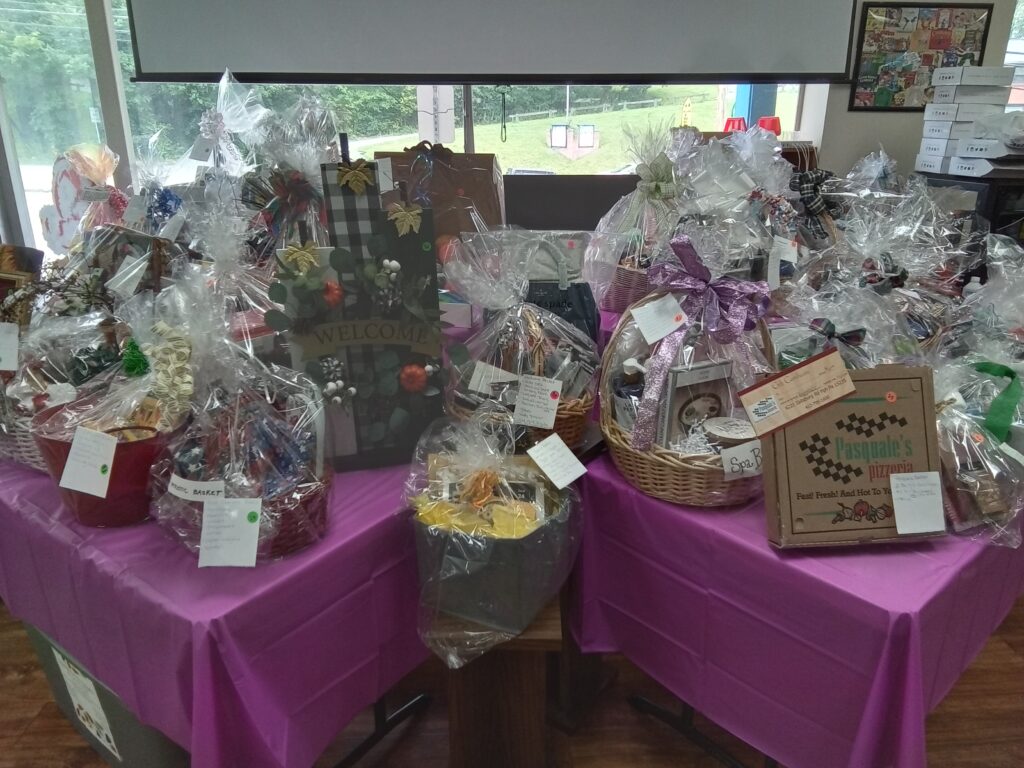 Below is a list of the baskets and their contents:
Elk County Basket – Six pack Straub "Octoberfest" beer, PA hickory syrup, 1 bottle Copper Fox (Serendipity) wine, North Country popcorn, elk cups, elk jerky, Koozie, bottle opener, Jack Paluh elk ornament
Devotional Basket – Bible (Message translation), prayer journal, daily devotional, sermon notes, Bible study book, Bible tabs, "Bless this House" magnet. 3 Christian music CDs
Avon Basket – Lotions, bubble bath soap, watch, loofah, hand soap, bug spray, shampoo, conditioner
Spicy Basket – Flamin hot Mt. Dew, spicy socks, variety of hot sauces, spicy corn relish, spicy pretzels, spicy mustard, hot peanuts, hot popcorn, hot tamales, spicy ramen
Back to School Basket – 1 binder, 2 notebooks, child scissors, regular scissors, scented highlighters, classic board games, post it notes, 2 in 1 headphones, super tip markers, pencils, M&Ms, scotch tape
Knit and Crochet Basket – 4 learn to knit books, learn to crochet book, various yarns, crochet tools
Loom Basket – Long and round loom set, 7 skeins of yarn, hat and scarf instructions
Fair Trade Basket – Wind chimes, family decoration, two branched maracas, single maraca, 2 paper tablets, glass earrings, glass necklace, key chain, glass tea rest, blue trivet, organic coffee with mug, two bracelets
Home for the Holidays Basket – Pedestal hurricane set, battery operated wax candle (batteries included), 2 hand/fingertip towels, "Merry and Bright" wooden door sign, 3 lace doilies, large holiday ornament
Joyful and Blessed Basket – Holiday ornament, warm and cozy mugs, hazelnut and french vanilla cocoa mix, sherpa slippers, pot holder kit with blueberry muffin mix, glass tray, fondue kiss with Hershey Kisses, Marshmallow fluff
Pamper Basket – Exfoliating gloves, bath salts, candle, soaps, lotion, brush, chocolate pretzels
Clean Auto Basket – Car seat organizer, disinfectant wipes, paper towels, glass cleaner
Lottery Basket – $50 lottery tickets
Roosters Galore Basket – 2 placemats, 2 mugs, salt and pepper shakers, large rooster (white), medium rooster (white), brown rooster, glass decanter, rooster jug, rooster print
Spa Basket – Bathrobe (medium), slippers (medium), bath pillow, hair towel, bath sponge, body butter, lavender shower gel, lavender candle, zen garden
Gift Card Garden – $50 Outback Steak, $60 Anthony's Coal-Fired Pizza, $25 Applebee's, $30 Panera, $25 Subway, $10 Chic-Fil-A
Let it Snow Basket – $20 Walmart gift card, heated throw, frosted vanilla candle, snowman dispenser and hand soap, bottle of Pinot Grigio, 2 red and black hand towels, 3 pair gloves, Swiss Miss, Hot Hands hand warmers, 2 pair fuzzy socks, 1 pair socks, black tassel cap and scarf, napkins
Wine Picnic Basket – Picnic Basket, 1 bottle rose wine, 1 bottle red blend wine, 1 bottle Reisling, set of 4 cups, plates, and silverware, 2 glass wine glasses, 2 plastic wine glasses, 2 coasters, 2 plastic containers, corkscrew, candle, tea towel, flower arrangement
Red Patriot Basket – Flip flops, napkins, ladies XL top, flashing light toy, wooden decoration, wallet, patriotic ball ornament
Lady of Luxury Basket – Slippers size 7-8, scrunchie and headband set, "Before you Go" toilet spray, Spongelle (beach grass scent), wide nail brush, flower hand towel, dental floss, toothbrush, concentrated room spray, Bath and Body Works foaming hand soap, almond butter exfoliating spa soap, almond body butter, Gilechrist & Soames skin care bar, chocolate shower burst in mesh bag, "Endless Weekend" room spray, Dove soap moisture cream, Dove soap, stress release sticky pad, antibacterial hand gel, heavy duty clip, fabric lined basket
Kate Spade Purse – New, unopened, $479 value; bonus Kate Spade change purse
Date Night Out Gift Cards – $25 Village Inn gift card, $25 Eat-n-Park gift card
Steeler's Basket – Two tickets to the Steeler's vs. Browns game September 18th 8:15pm, Welcome Home Steeler's decoration, Steeler's magnet, Steeler's "Loyalty" decoration, Black and gold tote
Keeley's Basket – 2-minute masque, preguard cream, free haircut certificate, shampoo, hair spray, conditioner
Pasqualino's Basket – $25 Pasqualino's gift card, spaghetti, penne, Pasqualino's sauce, oven mitt, spaghetti cooking spoon
Raspberry Basket – 1 bottle raspberry wine, 1 bottle raspberry syrup, 1 bottle raspberry vinaigrette, 1 jar raspberry fruit spread, 1 box of raspberry caffeine free tea, bag of raspberry candy and chocolate bar, 1 box of raspberry jello, 1 box of raspberry fruit grain bars
Child Activity Basket – 1 bottle bubbles, 1 bubble wand, 1 bubble flying disc, 1 bubble blower, shapes puzzle, dinosaur train puzzle, 4 coloring books, 1 activity number book, 1 sticker number book, 2 ready to read books, 1 funny face book, ABC magnetic letters, fruit loop crayons, jolly rancher crayons, water color paints, jellie scissors
Ice Cream Basket – 4 color changing plastic cups, waffle bowls, ice cream cones, caramel topping, strawberry topping, marshmallow topping, maraschino cherries, magic shell, rainbow sprinkles, sugar pearls, mixed nut topping, ice cream scooper, Reese's Pieces, mini M&Ms, $5 Aldi gift card for ice cream
Pasquale's Basket – 2 #20 gift certificates to Pasquale's Pizza, $15 play money in box
Tea Basket – 2 English teacups and saucers, etched glass creamer and sugar bowl, mulberry candle, teapot notepad, gentle beauty within book, variety of teas, mint chocolate (fair trade), organic honey
Crayola Basket – Glitter crayons, 3 boxes regular crayons, 3 boxes colored pencils, 1 box markers, 1 activity pack
Car Clean Basket – 2 Air Fresheners, Tire Wet, car garbage bags, glass cleaner, dashboard phone grip pad, 2 cleaning wipes, 2 disinfecting wipes, car wash card, car wash sponge
Hardware Basket – $25 gift certificate to Eastwood Hardware, Cable ties, electrical tape, sanding block, long nose pliers, screwdriver set, precision screwdriver set, gloves, safety scraper
Autumn Welcome Decoration
Christmas Basket – Lennox bowl, soap, crystal cross, tea towel, penguin dish, lighted ornament, candle, Peanut Gang mug, ornaments, Santa wooden decor, dog picture frame
Office Basket – Perpetual calendar, expanding file folder, wonder file, notepad, index cards, small post it notes, pens, pencils, journal
Artwork – 3 wall pictures
Kitchen Basket – Coleman airpot, 2 pugs, 2 anchor hocking glass bowls, spoon rest, pampered chef garnisher, pampered chef au gratin dish, grater, cutting board, measuring spoons, crumbs sweeper, condiment bowls
Golf Basket
Winning tickets will be drawn at 4pm on September 4th.
Winners do not need to be present during the drawing.
I should probably mention what else we have coming up in the not too distant future:
Friday, August 25th, 6:30ish – 9ish, Board Game Night ~ This has long been a tradition to come in on a Friday and have fun playing games.
Saturday, August 26th, 1PM – 3PM, Tech Help ~ We are a handful of tech heads that like technology and would like to help you with your stuff. We can help with cell phone, tablet, and computer problems/questions. We can talk with you about the latest tech like streaming TV, home security, cyber security, etc. This is all done for free, you just need to come in and ask for help. We will also be offering some classes come September, so let us know what you want to know more about.
Saturday, August 26th, 7PM – 8:30PM, Bereans Group ~ This group, which is open to the public, is discussing, 'When is it ok to challenge the status quo.'
Tuesday, August 28th, 7PM – 8:30PM, Bible Study ~ We are studying the Book of Exodus.
Saturday, September 2nd, 11AM – noon, LEGOs: The Final Frontier ~ For September's LEGO competition, we are encouraging kids to focus on outer space. I think this category will be pretty far out!
Monday, September 4th : Labor Day ~ We will have a raffle drawing, grilled foods, and more! We will be including more details in future newsletters.
As we've recently started selling board games at Lost and Found, I decided to highlight a board game that is a true brain teaser, Sherlock Holmes Consulting Detective: The Baker Street Irregulars.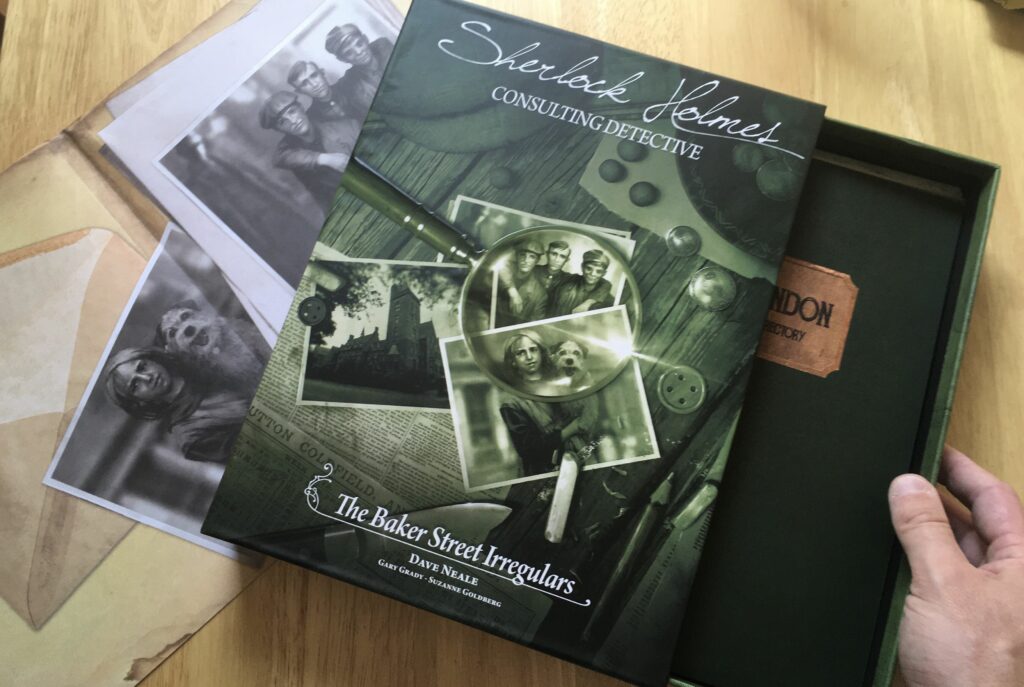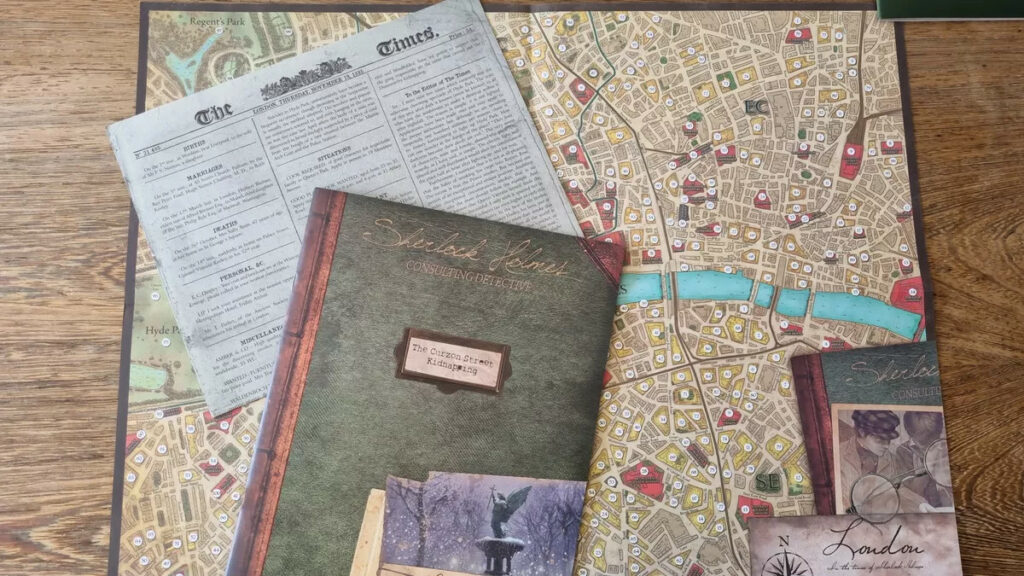 In 1880, Sherlock Holmes appointed a group of street children as The Baker Street Irregulars, his unofficial "police force". This is their story, and the story of a particular year that thrusts the Irregulars and the master detective into a series of challenging and dangerous events…
Sherlock Holmes Consulting Detective is a cooperative game where the players try to solve mysterious cases by walking the foggy London streets in search of clues. Unravel the thread of intrigue, answer a series of questions, and compare your detective skills to those of the master sleuth himself, Sherlock Holmes.
Now for the part everyone always asks about, the actual food! Our soup is our very popular chicken tortilla soup and our sandwich is our locally popular Penn Hills Cheese Steak! Our specialty ice creams are Peach and Graham Central Station.
Thanks and God bless,
Sean