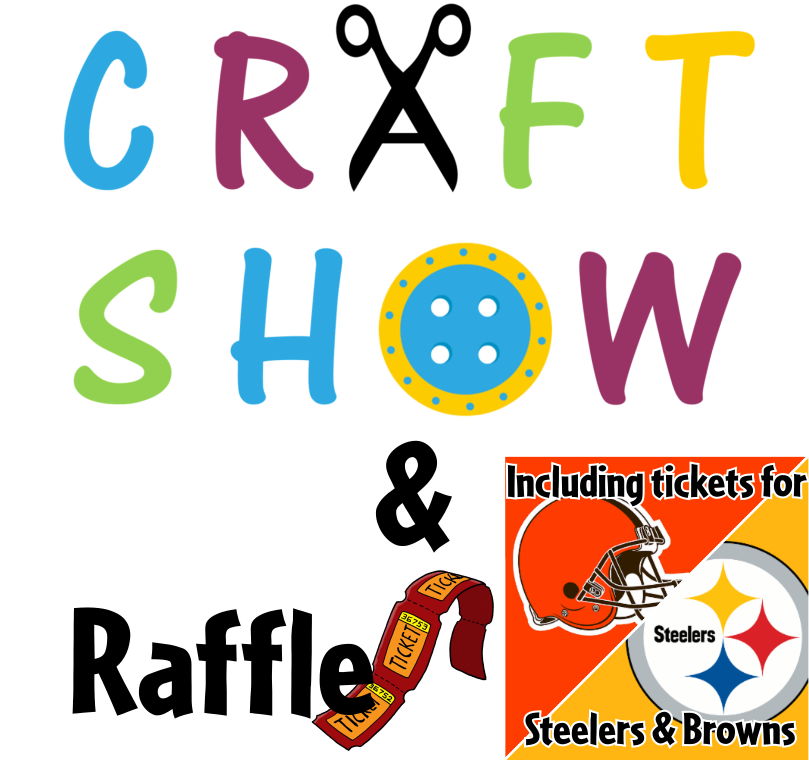 Our Fourth Annual Craft Show is this Saturday (8/19/22) from 9AM – 2PM along with the beginning of our raffle including a chance to win tickets for the Steelers and Browns game!
Of course, organizing this craft show reminds me of the time I had the really unusual opportunity to organize Dwayne Johnson's craft room. Unfortunately, I lost his scrapbook cutting tool. That's right, I lost the Rock's paper scissors. Hopefully I will still be able to find my scissors when this craft show is done.
We have a lot of great crafters lined up with everything from 3D printing, to lathed pens, to jewelry, soaps, candles, various knit and crocheted items, and more. One of our crafters mentioned that he only wants to make miniature Jesus figurines. Apparently he only wants to make a small prophet!
We still have a little more space at our craft show if there is a last minute person that wants to be added on for our Fourth Annual Craft Show.
As this is also the launch of our BIG Summer raffle, and we have a matching grant we want to encourage people to come in and participate in the raffle. I have always loved raffles every since I was a child. The one year when I was growing up, my Dad won a baguette in a raffle. It officially made him the family bread winner!
All the raffles will be drawn on Labor Day, Monday, September 4th at 4PM. All the proceeds from the raffle will go to our patient care fund.
We will also have the grills fired up and be serving food throughout the day. Come in and get one of our famous burgers or other wonderful sandwiches.
I should probably mention what else we have coming up in the not too distant future:
Friday, August 18th, 6:30ish – 9ish, Board Game Night ~ This has long been a tradition to come in on a Friday and have fun playing games.
Saturday, August 19th, 9AM – 2PM, Fourth Annual Craft Show ~ This year's craft show will have lots of activities, grilled foods, raffle baskets, and more! This is our big Summer fundraiser, so stop in and check things out. You may register here or at our store.
Saturday, August 19th, 1PM – 3PM, Tech Help ~ We are a handful of tech heads that like technology and would like to help you with your stuff. We can help with cell phone, tablet, and computer problems/questions. We can talk with you about the latest tech like streaming TV, home security, cyber security, etc. This is all done for free, you just need to come in and ask for help. We will also be offering some classes come September, so let us know what you want to know more about.
Saturday, August 19th, 7PM – 8:30PM, Bereans Group ~ This group, which is open to the public, is discussing the difference between being a 'Fan of Jesus' vs being a 'Follower of Jesus'..
Tuesday, August 21st, 7PM – 8:30PM, Bible Study ~ We are studying the Book of Exodus.
Saturday, September 2nd, 11AM – noon, LEGOs: The Final Frontier ~ For September's LEGO competition, we are encouraging kids to focus on outer space. I think this category will be pretty far out!
Monday, September 4th : Labor Day ~ We will have a raffle drawing, grilled foods, and more! We will be including more details in future newsletters.
As we've recently started selling board games at Lost and Found, I decided to highlight a board game that has frequently been played at our store, Machi Koro.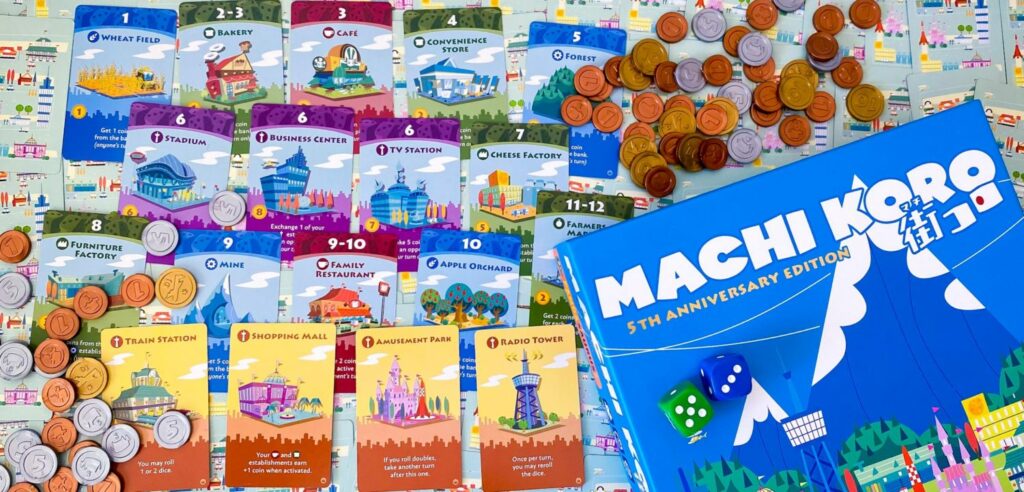 In this game you've just been elected Mayor of Machi Koro. Congrats! Unfortunately the citizens have some pretty big demands: jobs, a theme park, a couple of cheese factories and maybe even a radio tower. A tough proposition since the city currently consists of a wheat field, a bakery and a single die.
Armed only with your trusty die and a dream, you must grow Machi Koro into the largest city in the region. You will need to collect income from developments, build public works, and steal from your neighbors' coffers. Just make sure they aren't doing the same to you!
Machi Koro is a fast-paced game for 2-4 players. Each player wants to develop the city on their own terms in order to complete all of the landmarks under construction faster than their rivals. On their turn, each player rolls one or two dice. If the sum of the dice rolled matches the number of a building that a player owns, they get the effect of that building; in some cases opponents will also benefit from your dice (just as you can benefit from theirs). Then, with money in hand a player can build a landmark or a new building, ideally adding to the wealth of their city on future turns. The first player to construct all of their landmarks wins!
Now for the part everyone always asks about, the actual food! Our soup is our very popular chicken tortilla soup and our sandwich is our locally popular Penn Hills Cheese Steak! Our specialty ice creams are Peach and Midnight Caramel River.
Thanks and God bless,
Sean