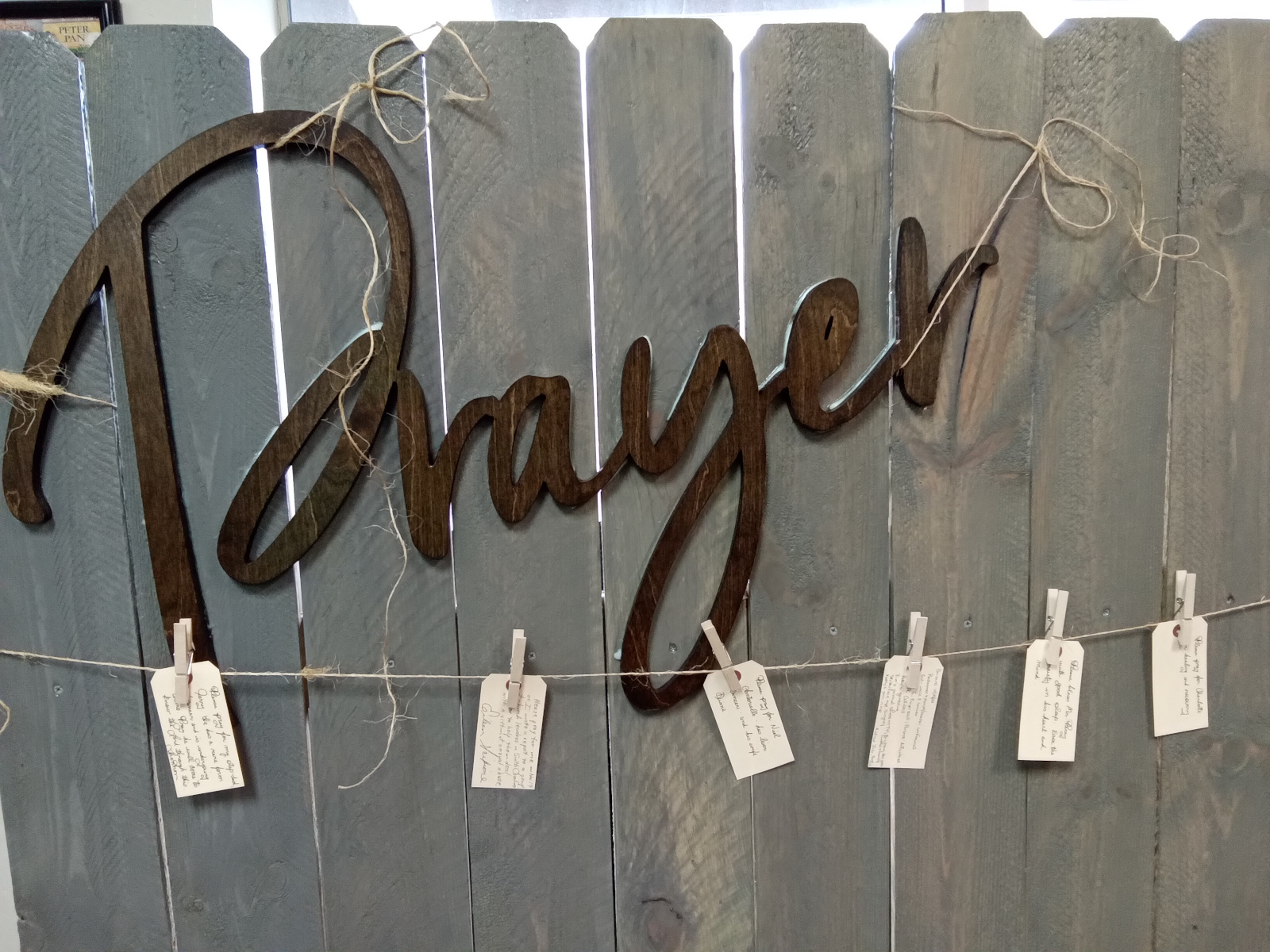 He only believes 12.5% of the Bible. He told me he is an eighth theist.
We just finished building a prayer wall at Lost and Found. We want to encourage you to read the prayers on the wall and pray about them. We also want you to place your own prayers on the wall with the knowledge that others will then be praying for you.
Now my opening joke does make me think about some other math problems of biblical proportion to consider.
What was the first math problem in the Bible?
When Adam and Eve were told to go forth and multiply.
Why couldn't Noah go fishing?
He only had two worms.
Those last two jokes remind me of a situation Noah had to deal with when unloading the ark. When he opened the ark to let the animals out, he told them, "Go forth and multiply."
All the animals beat a hasty retreat except for two gray snakes with a zigzag pattern on their backs. When all the other animals were gone they confided to Noah, "We don't know how to multiply; after all, we're only adders."
Not the least bit perturbed, Noah told them to wait and he would come back. He went and chopped down a tree, cut it into logs and made a table out of it. Then he dragged the table back to the ark and presented it to the adders. Noah pronounced, "Here is a log table, now even adders can multiply!"
Now that I've already exceeded my three joke limit, I've decided to push even further with a crossword puzzle where all the answers are names of various books of the Bible.
I also want to talk about our upcoming Lego contest. This LEGO competition based on SNOT, an advanced technique in LEGO building involves the creative usage of LEGOs where at least some of the bricks the Studs are Not On Top. In our next LEGO competition it will be our goal to require the usage of the SNOT technique. A brief tutorial will be provided before the competition begins. It will be for kids in first through sixth grade with separate prizes for each age group. Our LEGO SNOT competition will be held on Saturday, November 5th. In anticipation of it I wanted to share a picture I took 11 years ago while visiting a LEGO store in Manhattan.
Let's look at what else we have coming up in the not too distant future.
Friday, November 4th, 6:30ish – 9PM, Board Game Night ~ This has long been a tradition to come in on a Friday and have fun playing games.
Saturday, November 5th, 1PM – 3PM, Tech Help (the group formerly known as Old Men That Sit Around and Talk About Computers) ~ This group meets every Saturday to help others with their tech problems and/or talk about trending technology. We have solved a lot of computer problems for various platforms and devices including phones, smart watches, digital cameras, CD players, and we have helped people with numerous software problems ranging from laptop and cell phone apps to even thing like Apple Car Play. If we aren't over inundated with helping people I would love to talk some about web platforms and plugins.
Saturday, November 5th, 11AM – 12:30PM, LEGO SNOT: Studs Not On Top ~ This competition is free to the public and will have kids from first through sixth grade utilizing their imagination as they compete for prizes.
Saturday, November 5th, 7PM – 8:30PM, Bereans Group ~ This group, which is open to the public, is spending this evening discussing the controversial topic of Christians and politics! I recommend showing up in the full armor of God as we talk about this right before the election.
Monday, November 7th, 10AM – 12 noon, Flu Clinic ~ The Penn Hills Sr Center has asked us to give flu shots. We ask that any seniors that come should bring both their prescription insurance card and their Medicare card. Shannon will be the one administering the injections.
Tuesday, November 8th, 7PM – 8:30PM, Bible Study ~ We are continuing our study on the Gospel of John. We are at the beginning of chapter 19 right after Jesus was turned over to Pilate. Join us as we discuss what happens next!
Wednesday, November 16th, 5PM – 7PM, Shrek ~ Come and join us for a free movie for the public to enjoy. Our movie in November will be Shrek! Closed captions will be included.
Saturday, November 26th, All Day, Small Business Saturday ~ We will have various activities and events throughout the day. More details will be coming soon.
Now for the part everyone always asks about, the food! Our current soup is our delicious hash brown soup, our current sandwich is kielbasa, and our specialty ice creams are currently Deep Dish Apple Pie and Cappuccino Crunch. Also, while it last, our current specialty waffle is the seasonally appropriate pumpkin.
Thanks and God bless
Sean