Shrek has been a pop culture phenom for over 20 years now, but did you ever notice how much he looks like the old wrestler Maurice Tillet?
For people that want to know, Tillet graduated from law school but was concerned that his changing voice and appearance, as his acromegaly progressed, would make it difficult for him to be taken serious. He ended up spending five years as a French naval engineer before someone convinced him to become a professional wrestler. He held the championship title twice over his career, losing it for the last time in 1944. He was the original giant French wrestler before Andre. Below are a few more pictures comparing Shrek and Tillet.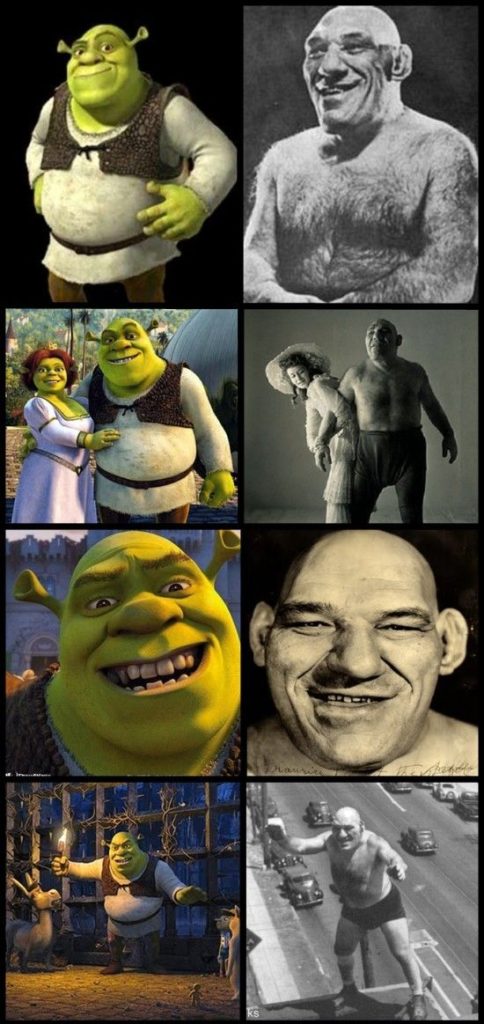 We all have those movies that our children wanted us to watch over and over. For me Shrek was one of the two films that my daughter regularly had me watch with her on a very regular basis. The result of which is that I noticed a lot of small details about the movie. Details like the three little pigs each have a hat representing what their homes were made of, or the fact that only two of the three bears are present in Shrek's home, a weeping Baby Bear and Papa Bear.
"Where's Mama Bear?" you ask?
If you pay close attention you'll notice a bear skin carpet in Farquaad's castle that happens to be wearing a pink bow.
We are watching Shrek this Wednesday at five o'clock on our movie screen. It's free to the public and should be lots of fun.
I do consider this the best picture that Dreamworks has made and that, of course, reminds me of a couple of jokes.
Q: Why don't Disney and Pixar work together better?
A: Because teamwork makes the Dreamworks.
Dreamworks is looking to make their first documentary. It will be about interesting things you can do with common noble gases. They're going to call it, "How to Train Your Argon."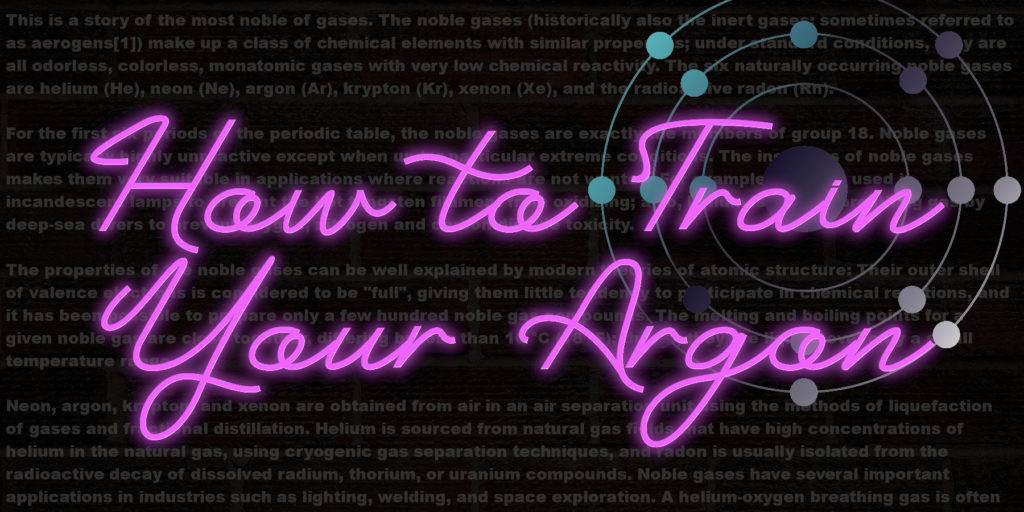 Let's look at what else we have coming up in the not too distant future.
Friday, November 11th, 6:30ish – 9PM, Board Game Night ~ This has long been a tradition to come in on a Friday and have fun playing games.
Saturday, November 12th, 1PM – 3PM, Tech Help (the group formerly known as Old Men That Sit Around and Talk About Computers) ~ This group meets every Saturday to help others with their tech problems and/or talk about trending technology. We have solved a lot of computer problems for various platforms and devices including phones, smart watches, digital cameras, cd players, and we have helped people with numerous software problems ranging from laptop and cell phone apps to even thing like Apple Car Play. If we aren't over inundated with helping people I would love to talk about cord cutting options.
Saturday, November 12th, 7PM – 8:30PM, Bereans Group ~ This group, which is open to the public, is spending this evening discussing theo-evolution. It is a pretty cool and complicated subject, but since our group regularly proves that we just don't know any better than to avoid certain subject, it should be a lot of fun.
Tuesday, November 15th, 7PM – 8:30PM, Bible Study ~ We are continuing our study on the Gospel of John. We are at the beginning of chapter 19 right after Jesus was turned over to Pilate. Join us as we discuss what happens next!
Wednesday, November 16th, 5PM – 7PM, Shrek ~ Come and join us for a free movie for the public to enjoy. Our November movie is Shrek! Closed captions will be included.
Saturday, November 26th, All Day, Small Business Saturday ~ We will have various activities and events throughout the day. More details will be coming soon.
Saturday, December 10th, 5PM – 7PM, Staff and Volunteer Christmas Party ~ We love all those that help us everyday to make Lost and Found awesome! We will close a little early to have food, wassail, and a white elephant gift exchange to thank everyone that makes what we do look so easy!
Now for the part everyone always asks about, the food! Our current soup is our delicious hash brown soup, our current sandwich is kielbasa, and our specialty ice creams are currently Deep Dish Apple Pie and Caramel Peanut Butter Cookie Dough. Also, while it lasts, our current specialty waffle is the seasonally appropriate pumpkin.