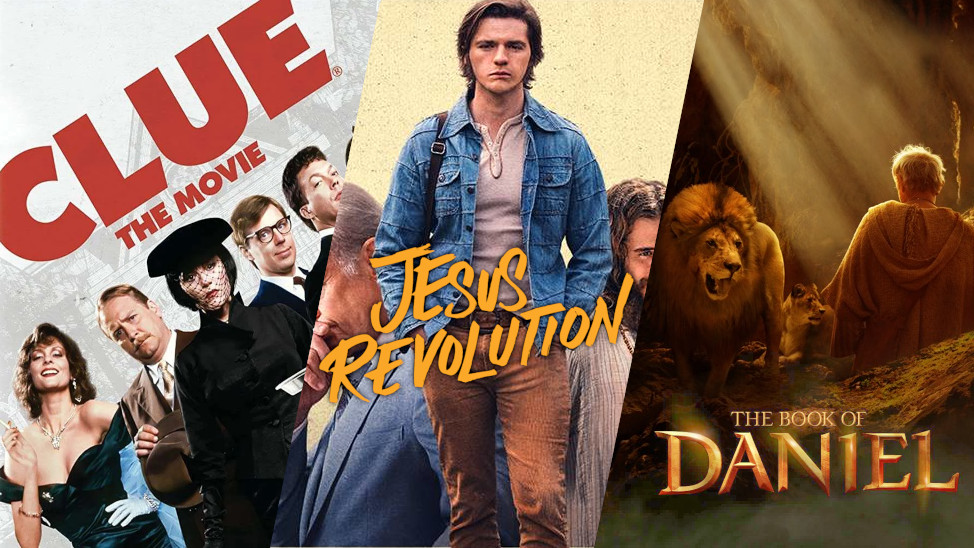 So we have three great movies coming up at Lost and Found, including The Book of Daniel, Clue, and the Jesus Revolution.
With all the bevy of big blockbusters coming our way it reminds of a movie idea I tried pitching to some action stars from the 80s. It went like this:
Me: I have this idea where the three of you would be cast as classic composers.
Stallone: I'll play Vivaldi.
Bruce Willis: I'll be Mozart.
Schwarzenegger: Stop it guys I'm not saying it.
As someone who spends a lot of time thinking about movies for our screen at the store I feel like I've made some reasonable deduction. As an example, a lot of people think the movie "The 5th Element" is exciting.
Personally I think it's boron.
I also came to the realization that the Titanic and the Sixth Sense are basically the same movie.
Icy dead People!
I should probably switch reels and mention what else we have coming up in the not too distant future:
Friday, April 7th, 6:30ish – 9ish, Board Game Night ~ This has long been a tradition to come in on a Friday and have fun playing games.
Saturday, April 8th, 1PM – 3PM, Tech Help (the group formerly known as Old Men That Sit Around and Talk About Computers) ~ This group meets every Saturday to help others with their tech problems and/or talk about trending technology. We have solved a lot of computer problems for various platforms and devices including phones, smart watches, digital cameras, CD players, and we have helped people with numerous software problems ranging from laptop and cell phone apps to even thing like Apple Car Play. If you got a new (or problematic) device, bring it in and we can help you set it up!
Saturday, April 8th, 7PM – 8:30PM, Bereans Group ~ This group, which is open to the public, is discussing Easter this Saturday.
Tuesday, April 11th, 7PM – 8:30PM, Bible Study ~ We just finished the book of Daniel chapter 12. We will be watching the movie, the Book of Daniel.
Wednesday, April 19th, Clue ~ Based on the board game, a band of strangers frantically try to figure out who is the murderer among them.
Saturday, May 6th, 11AM – 12noon, LEGO Contest ~ We will be hosting a LEGOs competition for kids in first through sixth grade. Various prizes for different age categories will be given out and the competition is free to the public. The theme for this contest is making fake food out of LEGOs. Please do not give this competition the Tide Pod Challenge treatment.
Wednesday, May 16th, Jesus Revolution ~ Based on the Jesus Revolution that started on the west coast in the late 60's and early 70's.
Now for the part everyone always asks about, the actual food! Our soup is delicious tomato basil soup (which pairs well with a grilled cheese), our current sandwich is a pizza panini, and our specialty ice creams are Sugar Cookie and Banana Pudding.
Thanks and God bless,
Sean