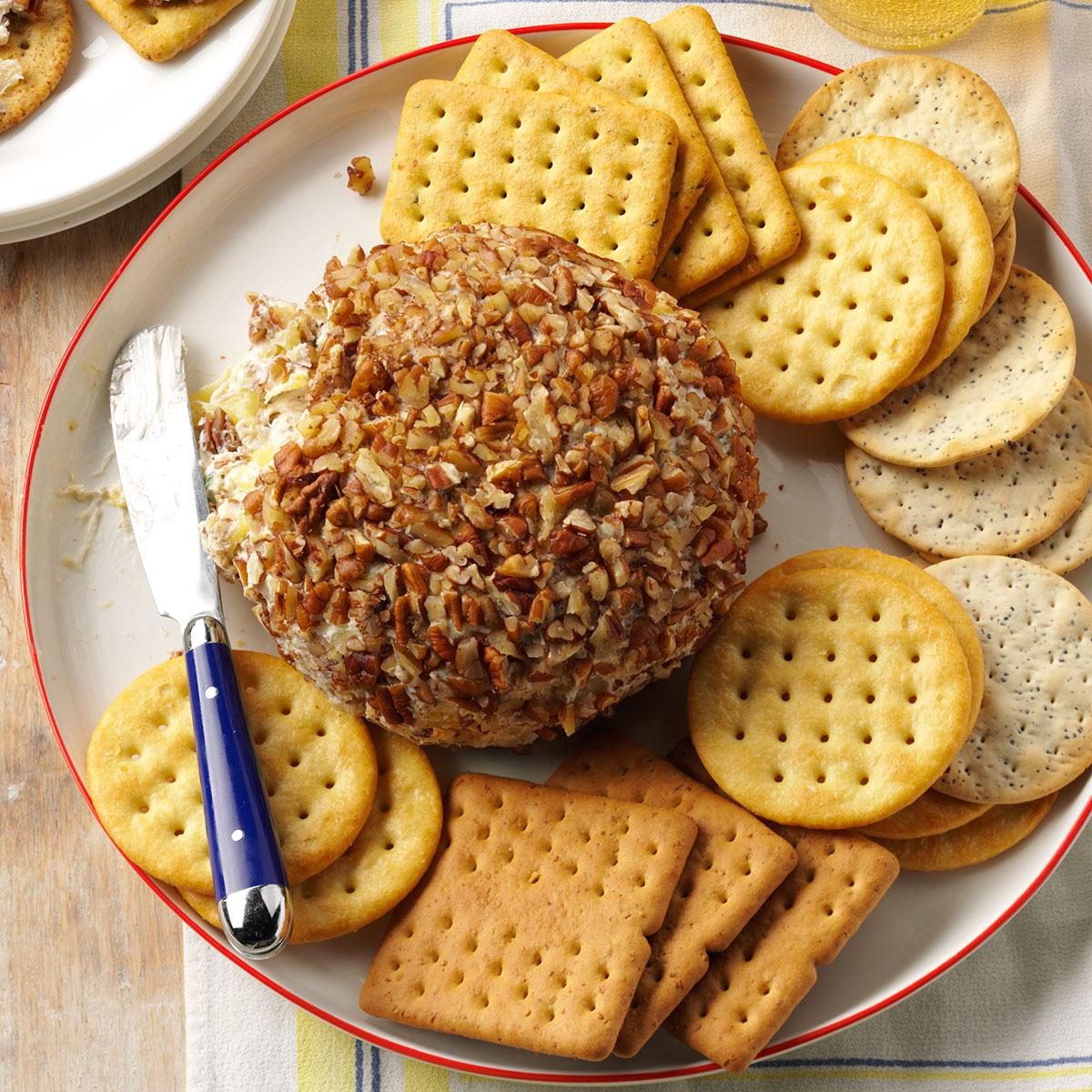 So I was trying to come up with this week's topic when I realized I needed help. I could have turned to my trusty help mate that happens to be a wise advisor, or I could go to the internet in search of something completely random. I chose the latter.
I landed on a calendar of obtuse holidays. Here is what I found:
April 13th: National Scrabble Day – I find myself at a loss of words for this holiday.
April 14th: National Look up at the Sky Day – Unfortunately people already accuse me of having my head in the clouds.
April 15th: Husband Appreciation Day – While I will be sure to let Shannon know about this, I'm not sure it should be my email topic this week.
April 16th: World Semicolon Day – Considering the plethora of punctuation errors that I make, I need to skip this one.
April 17th: National Cheese Ball Day – Now this is a holiday I can get behind as I know much and more about this cheesy topic.
To answer the first question that probably pops into your head the answer is, "No I am not making this up." Also, to answer the second question, "We are not getting ready to sell cheese balls."
Cheese balls have an interesting history, including:
The first cheese ball was officially presented to President Thomas Jefferson at the White House in 1801.
The first cheese ball recipe didn't appear in cookbooks until 1944 (Food of My Friends by Virginia Safford).
But what is probably the most memorable cheese ball event didn't occur till December 2012….
We had gotten ready for the family gathering at my home where my lovely wife and I were expected to prepare most of the food including the main course, various side dishes, dessert, and still manage clean up when it was all done. I had tasked two members of my families with specific sides. My younger brother was to bring dinner rolls, and my mother was responsible for making a green bean casserole.
My younger brother was only a couple of minutes late for our scheduled dinner time. Luckily I had given him a time earlier than when I intended to actually serve knowing the proclivity of some of my family members towards tardiness. He handed me a bottle of wine apologizing that he couldn't remember what he was supposed to pick up. He also went on to explain that I should wait to open the bottle because it had been rolling around on his floorboard. I smiled and thanked him and put into the frig next to the bottle of wine that I had already purchased and chilled for the evening's festivities. So, no dinner rolls.
Maybe another fifteen minutes passed when my mother shows up. Not with the requested green bean casserole, but instead with six cheese balls. Yes, I said six. After picking my jaw up off the floor, I placed them on the table next to the cheese ball I had already set out. So there we were with approximately one cheese ball per person. One of my older brothers, decided to accept this challenge and nearly consumed an entire cheese ball on his own. I debated about whether I should have handed him a bottle of Dulcolax to take home with him, but decided against it.
If you ever have an evening to waste, you should swing by the pharmacy and I can tell you a series of epic sagas involving asking my mother to make green bean casseroles. It is a testimony to the patience of my lovely bride that she didn't pelt my mother with potatoes the one year!!!
More important than National Cheese Ball Day, is Cheddar Fries Day on the 20th. I'll probably start celebrating that one early
This is probably as good of a segue as I'm going to get to mention that our next big LEGO event is coming up on Saturday, May 6th. The theme this time is food! Everyone is expected to make a LEGO creation that reminds people of food. Checkout the LEGO cheeseburger below.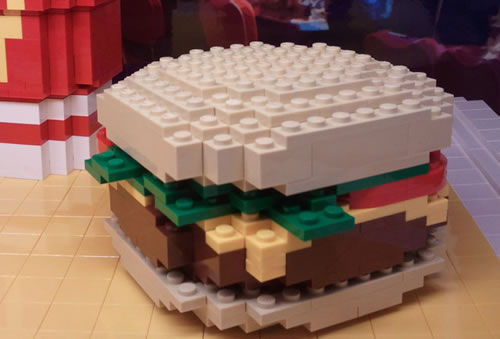 Enough of my cheesy humor, I should mention what all we have coming up in the not too distant future:
Friday, April 14th, 6:30ish – 9ish, Board Game Night ~ This has long been a tradition to come in on a Friday and have fun playing games.
Saturday, April 15th, 1PM – 3PM, Tech Help (the group formerly known as Old Men That Sit Around and Talk About Computers) ~ This group meets every Saturday to help others with their tech problems and/or talk about trending technology. We have solved a lot of computer problems for various platforms and devices including phones, smart watches, digital cameras, CD players, and we have helped people with numerous software problems ranging from laptop and cell phone apps to even thing like Apple Car Play. If you got a new (or problematic) device, bring it in and we can help you set it up!
Saturday, April 15th, 7PM – 8:30PM, Bereans Group ~ This group, which is open to the public, is discussing whether or not un-believers have a chance of being saved!
Tuesday, April 18th, 7PM – 8:30PM, Bible Study ~ We are starting a new series on I and II Thessalonians. Looking to join a study, this could be a great opportunity.
Wednesday, April 19th, 5PM – 7PM, Clue ~ Based on the board game, a band of strangers frantically try to figure out who is the murderer among them.
Saturday, May 6th, 11AM – 12noon, LEGO Contest ~ We will be hosting a LEGOs competition for kids in first through sixth grade. Various prizes for different age categories will be given out and the competition is free to the public. The theme for this contest is making fake food out of LEGOs. As one of the judges, I think cheese related foods might just appeal to my cheesy nature.
Wednesday, May 16th, 5PM – 7PM, Jesus Revolution ~ Jesus Revolution set in the late 60s and early 70s depicts an era that was filled with people looking for something more.
Now for the part everyone always asks about, the actual food! Our soup is delicious tomato basil soup (which pairs well with a grilled cheese), our current sandwich is a pizza panini, and our specialty ice creams are Blueberry Cheese Cake and Salty Caramel Truffle.
Thanks and God bless,
Sean