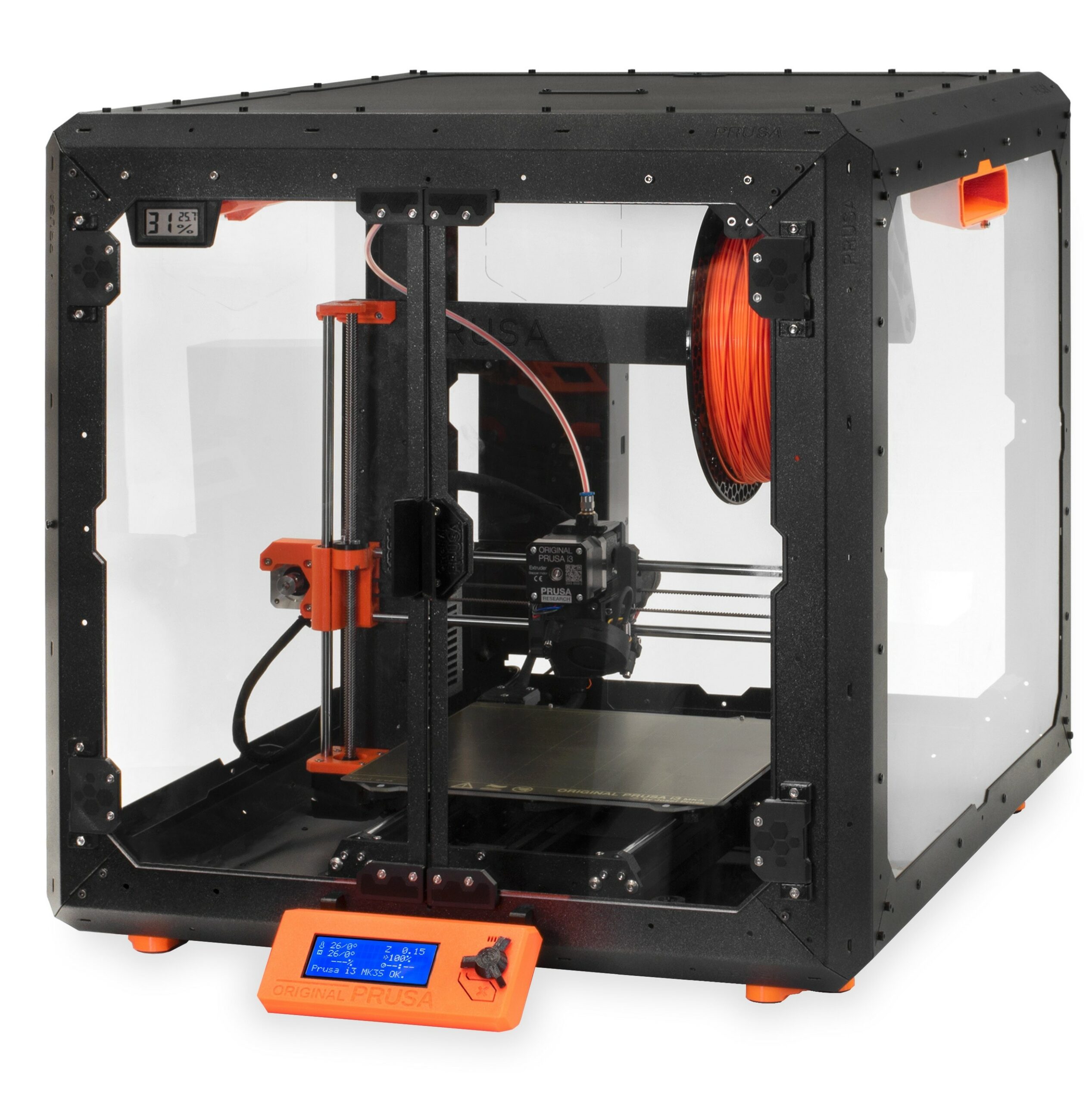 So We've been enjoying our new 3D printer at Lost and Found. The other day a young kid came in and was really scrutinizing what it was doing. The following conversation took place:
Kid: What's it doing?
Me: It's printing a 3D object. More specifically, It's printing a birdhouse.
Kid: ???
I grabbed a sheet of paper and a pencil.
Me: If I draw a straight line across across this sheet all it has is length or 1D. If I write some words and draw a stick figure that requires 2D and is basically what most printers do. This printer can print with length, width, and height creating a physical object. That makes it 3D.
Kid: Wow! So what's a 4D printer?
Me: Just give it time.
I said this last line with a smile while the kid just nodded sagely not realizing he had walked right into one of my dumb jokes.
Speaking of 'As Time Goes By', Our upcoming double feature is Casablanca (Humphrey Bogart, Ingrid Bergman, and Dooley Wilson) followed by the 8 minute short Carrotblanca (Bugs Bunny, Ms Kitty, and Daffy Duck). I know that traditionally the short is shown first, but it may have too many spoilers if someone doesn't actually know the original despite being the most quotable movie of all time!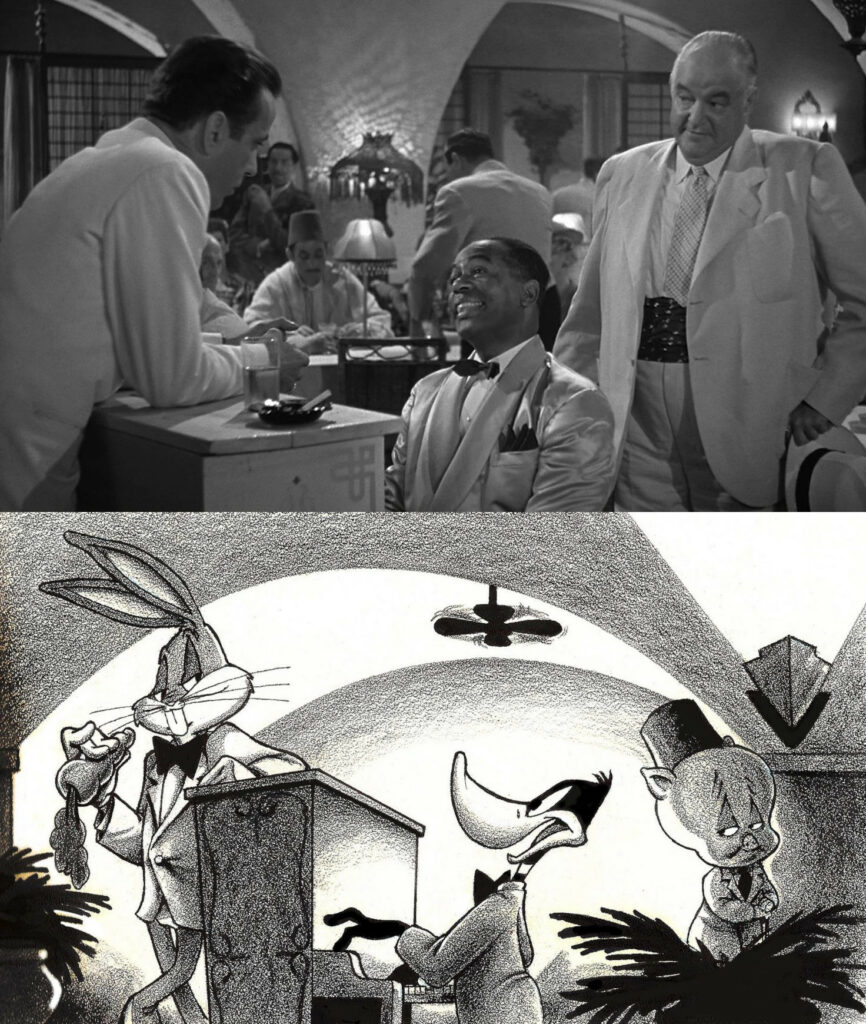 Casablanca will be on our screen next Wednesday (July 19th) at 5PM. Knock on wood, you will all be here.
We also want to mention our upcoming craft show and raffle. August 19th is the craft show and it is also when our raffle basket event begins. We received confirmation that there will be a matching grant for our basket raffle, which is fantastic as it is already our big Summer fundraiser. If you would be willing to donate a basket for the raffle, please bring it in between August 13th and August 19th.
Did I ever tell you about the time a friend of mine decided to include my thesaurus in a raffle without asking me first?
I was at a loss for words.
We should probably mention some of the other activities coming up in the not too distant future:
Friday, July 14th, 6:30ish – 9ish, Board Game Night, This is an opportunity to come and play some board games and just hang out. Last week we had a bunch of different games going on including Dark Rocks, Dead of Winter, Terraforming Mars, and Machi Koro.
Saturday, July 15th, 1PM – 3PM, Tech Help ~ We are a handful of tech heads that like technology and would like to help you with your stuff. We can help with cell phone, tablet, and computer problems/questions. We can talk with you about the latest tech like streaming TV, home security, cyber security, etc. This is all done for free, you just need to come in and ask for help.
Saturday, July 15th, 7PM – 8:30PM, Bereans Group ~ This group, which is open to the public, is discussing Walking the Fence – Enjoying Christian freedom without crossing any boundaries.
Tuesday, July 18th, 7PM – 8:30PM, Bible Study ~ We are studying the Book of Exodus.
Wednesday, July 19th, 5PM – 7PM, Casablanca ~ July's movie is is a true silver screen classic from 1942, shortly before we entered the second world war. Join Humphrey Bogart, Ingrid Bergman, and Dooley Wilson as we watch Sam 'Play it again'.
Saturday, August 19th, 9AM – 2PM, Fourth Annual Craft Show ~ This year's craft show will have lots of activities, grilled foods, raffle baskets, and more! This is our big Summer fundraiser, so stop in and check things out. More details will be made available soon. You may register here or at our store.
As we've recently started selling board games at Lost and Found, I decided to highlight a board game we've been printing at our store based on Ms Pac-Man.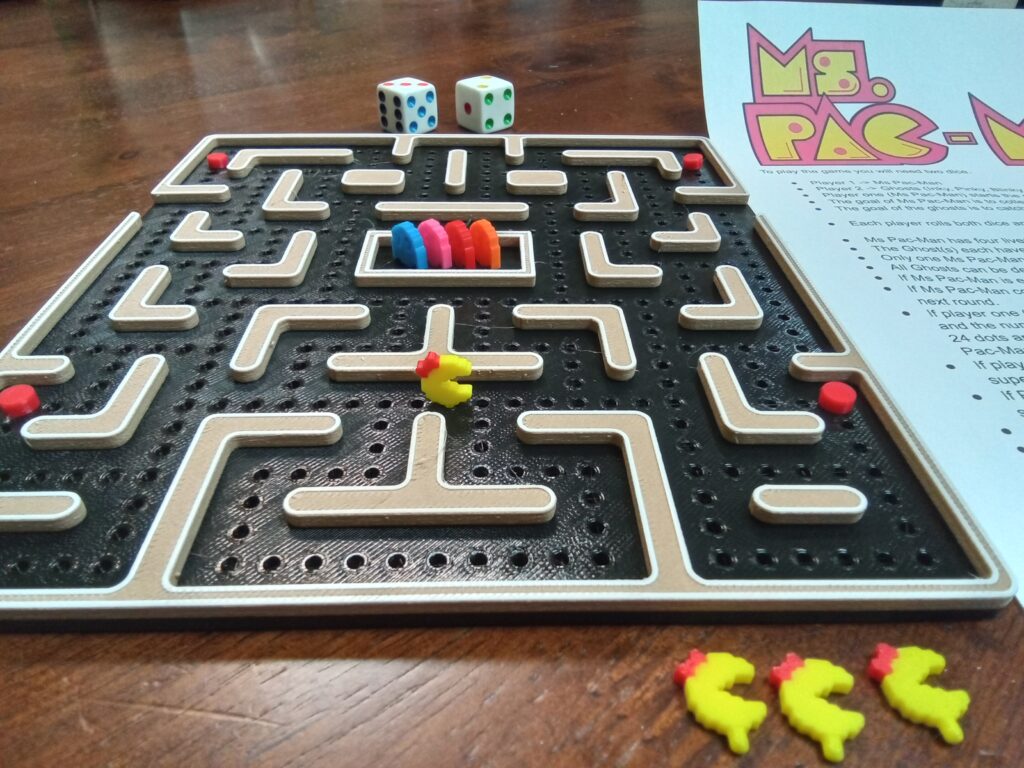 This is a 2 player game where you are either the Ghosts (Inky, Pinky, Blinky, and Clyde), or Ms Pac-Man. Extreme Ms Pac-Man fans may even recognize the board as the third level on the arcade machine. We have printed it in house and even used American made plastic filaments from Hatchbox to make the board and pieces. Waka-waka-waka sounds are not included.
Now for the part everyone always asks about, the actual food! Our soup is changing over to be the chicken tortilla soup next week, and our sandwich is also changing next week to be our locally popular Penn Hills Cheese Steak! Our specialty ice creams are Salty Caramel Truffle and Banana Pudding. Our current specialty waffle is a delicious blueberry waffle.
Thanks and God bless,
Sean